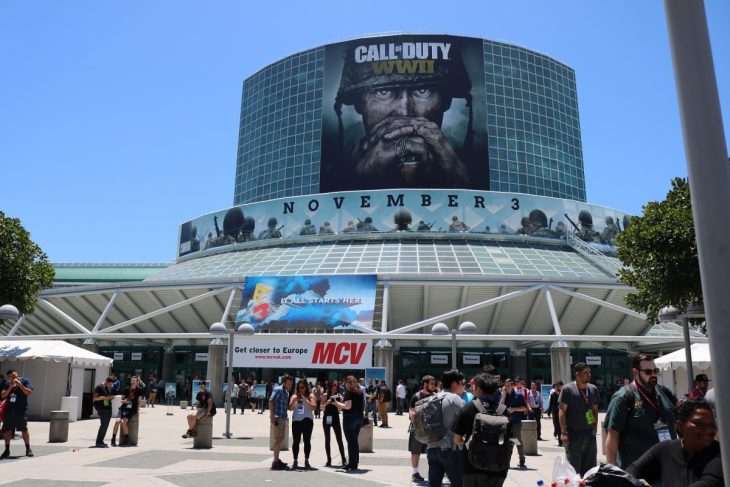 This year's E3 was a powerful event full of great games from both the major console manufacturers and the largest publishers and developers in the industry.
Electronic Arts kicked off the conference on Saturday with a huge focus on Star Wars Battlefront 2. The publisher showed a live multiplayer match with YouTubers and Twitch Streamers playing during the conference, and said that this is Battlefront 2's year. EA also showed new gameplay for their yearly sports titles FIFA 18, Madden 18, NBA Live 18, as well as upcoming DLC for Battlefield 1. However, the highlight of the conference was Bioware's new title, Anthem, even though no actual gameplay was shown until Microsoft's conference the next day.


Microsoft held a mammoth of a conference, showing forty-two games altogether with a combination of triple A titles as well as games from independent developers. The biggest announcement for them by far however was the Xbox One X. Microsoft's latest console will be the most powerful on the market when it launches later this year, and already has a great lineup of games releasing to bolster it. Not only did they mention new games, but an update to Minecraft coming later this year, will allow players from across all devices, apart from PlayStation, to play together. The Xbox One X was overshadowed somewhat thought by the announcement that classic Xbox titles will be coming to Xbox One consoles via backwards compatibility, which fans have been calling for since backwards compatibility first came to the console.


In terms of games Microsoft had some big announcements for sequels to previous Xbox exclusive titles. State of Decay 2 is releasing later this year, and Ori and the Will of the Wisps, sequel to the incredibly popular Ori and the Blind Forest, will also be releasing in the next year. The highlight of the conference, apart from the new console, was definitely Anthem, Bioware's new title. The game looks to be a blend of MMORPG gameplay with open world instances, giving players far more detailed worlds to explore and loot in together.


Bethesda were the next company giving a press conference, and sadly it was a little underwhelming when compared to their past efforts. Wolfenstein 2 The New Colossus was one of the only new titles announced alongside The Evil Within 2, slated for a release this year. However, Bethesda's highlight was easily the two new VR titles they're releasing. Doom VR and Fallout 4 VR will be coming to virtual reality devices, giving players a better way of immersing themselves in some of gaming's most detailed and entertaining worlds.


The company also revealed updates coming to current titles, such as the first piece of DLC for Dishonored 2, a Skyrim update for The Elder Scrolls Legends, and an overview of the Morrowind update for The Elder Scrolls Online. Finally, Bethesda also showed footage of Skyrim running on Nintendo Switch, an eagerly awaited title, but no release date was confirmed.
The PC Gaming show was filled to the brim with new DLC and updates to current PC games, but the highlight had to be Age of Empires Definitive Edition, a 4K resolution version of the original game. Close behind this however was Xcom 2 War of the Chosen, a DLC so large that it could have been released separately and called Xcom 3. Other notable announcements included a massive update for PLAYERUNKNOWN'S BATTLEGROUNDS, which adds climbing, vaulting, and new weather, as well as a new RPG from Klei Entertainment, developers of Don't Starve.
Ubisoft had one of the best conferences of the entire event, showing two titles that drove fans wild. The first announcement is a new title combining Rabbids and Mario with Xcom like gameplay, Mario + Rabbids Kingdom Battle. The combination of Mario with Xcom gameplay is something that has every press outlet discussing the title.
Even though Ubisoft showed more gameplay for the titles we know they're releasing over the next year, Assassin's Creed Origins and Far Cry 5 for example, their last reveal stole the show, Beyond Good and Evil 2. This title has been discussed by the creators for over fifteen years, and even though Ubisoft only showed a cinematic trailer, it was more than enough to see many awarding them best conference of E3 2017.


Sony showed the strongest lineup of games for PlayStation that they've ever shown, with titles such as Skyrim and Final Fantasy 15 on VR, new details for Destiny 2, the first DLC for Horizon: Zero Dawn, and the announcement that more than 60 million PlayStation 4 consoles have been sold worldwide. Sony also had the pleasure of announcing Monster Hunter World for all major consoles, hosting Call of Duty World War 2, and showing new gameplay for one of their most anticipated titles, Days Gone. Finally, Sony won a number of fans over with the announcement that Shadow of the Colossus is coming to PlayStation 4.


Nintendo's conference was the last of the event, and no one expected it to be better that what they'd seen so far. But Nintendo managed to reveal more new titles than ever before, and have the strongest conference since the Wii was released. The highlights that no one saw coming were new Super Mario Odyssey gameplay, a new Metroid title for 3DS, and the announcement that not only is there a mainline Pokemon game in development for Nintendo Switch that isn't Pokemon Sun and Moon, but the reveal that Metroid Prime 4 is in development for the console as well.


Of all the conferences, Nintendo's was the most exciting for fans. After a couple of bad years of not managing to promote the Wii U with enough great titles, they've pulled fans back with a fantastic lineup of games for their consoles, as well as future prospects for anyone wanting to invest in either a DS or Switch.