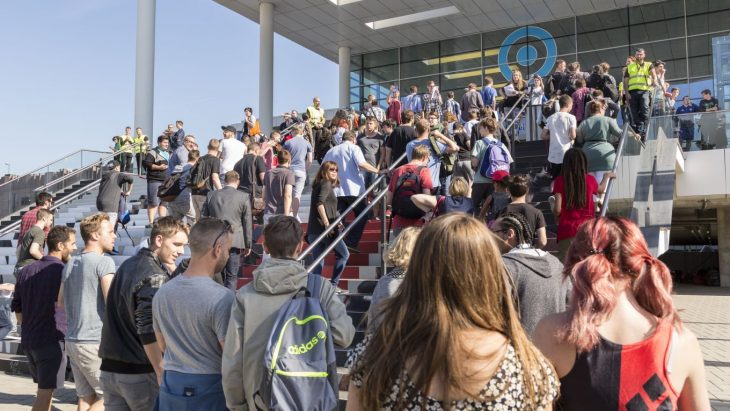 Gamescom is about halfway through but there have already been a number of big announcements from the event from publishers and developers alike.
Microsoft were quick to announce three new console bundles, two for the Xbox One S and one for the Xbox One X. Of course the larger and more exciting, announcement is for the Xbox One X which is getting a Project Scorpio Limited Edition bundle. Microsoft were also keen to let people know that over 100 games have been enhanced for Xbox One X so far, with more on the way.
In terms of games Microsoft have shown the bulk of new gameplay for a number of titles, including Middle-Earth Shadow of War, which launches in October. The big focus for many for this title is the graphical improvements, as well as the increased scale which looks to allow far more playable hours than the first title. Microsoft also showed new gameplay for Age of Empires Definitive Edition and the new Age of Empires 4, and announced that Sea of Thieves will be cross-compatible between PC and Xbox. Finally, a new expansion and definitive edition have been confirmed for Xbox-exclusive title ReCore.
Nintendo have made a few announcements and revealed more details about upcoming releases. Firstly a new SNES-themes New 3DS XL has been announced and is available for pre-order. Pre-orders are also now open for the recently revealed Pokemon Gold and Silver 3DS versions, as well as Pokemon Sun and Moon Ultra. Three new titles have been confirmed for the Nintendo 3DS Select Range; Luigi's Mansion 2, Kirby Triple Deluxe, and Super Mario 3D Land.
The Nintendo Switch version of Rocket League has been given some more details. First it will release this holiday season, and second there are three exclusive battle-cars for Switch players based on Mario, Luigi, and Samus Aran. Fire Emblem Warriors has also been confirmed for 3DS and Switch and will release Autumn 2017. Finally, Nintendo showed footage of a new food-themed world in Super Mario Odyssey, Luncheon Kingdom.
Today Nintendo will be hosting a livestream that is focussed solely on Metroid: Samus Returns, a remake of the classic GameBoy title Metroid 2 for the New Nintendo 3DS. Some suspect there might be news of Metroid Prime 4 within the livestream also.
Sony announced prior to Gamescom that they will be showing a host of titles at PAX West, and the number of announcements from them at Gamescom have been modest. However, a trailer for the Playstation 4 version of Shenmue 3 was revealed to a positive reception, a new Destiny 2 trailer was also shown, and a new Playstation 4 Pro Gran Turismo Sport Limited Edition bundle was revealed, available October 18, 2017.
EA had some big announcements for those at or watching Gamescom live. Firstly, they revealed that the EA Originals title Fe will also be releasing for Nintendo Switch. New trailers for Star Wars Battlefront 2's Starfighter Assault and FIFA 18 were shown, the BMW M5 was revealed as a vehicle in Need for Speed Payback, and not only is The Sims 4 releasing for consoles in November but there will also be a Pets Expansion for it.
EA's focus was also Battlefield 1, specifically the upcoming Revolution DLC. A new 5 vs 5 Incursion mode was demonstrated during the event, and a Battlefield 1 Revolution Edition was announced. The Revolution Edition contains Battlefield 1 and all DLC released so far.
Bethesda announced that Wolfenstein 2 will be an Xbox One X enhanced game. They also confirmed that Fallout VR will release on December 12, 2017, and Doom VFR will release on December 1st. The Evil Within 2 is also currently playable at Gamescom, though Bethesda's main focus is upcoming release dishonored: Death to the Outsider.
Ubisoft announced new title Anno 1800, with a release date of Winter 2018, and Anno Union, a new feedback platform for players. There were also new trailers for Assassin's Creed Origins, and Rainbow Six: Siege is having a free-to-play time period in anticipation of the Operation Blood Orchid DLC.
Finally, Square Enix confirmed Final Fantasy 15 for Windows, and showed a new trailer for Life is Strange: Before The Storm, a highly anticipated upcoming title.