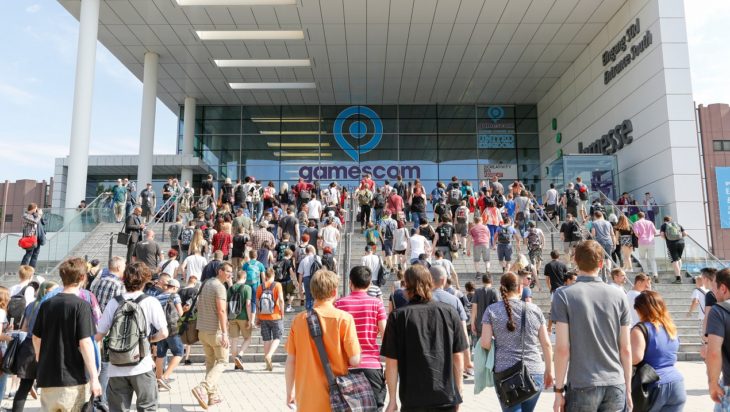 Gamescom, the annual video game trade show at Cologne Germany, is scheduled to take place this year on 22 – 26 August. As usual, all the leading video games industry players are expected to participate.
This year Ubisoft has confirmed they will have three hundred stations at their booth for gamers to play their games and earn special in-game rewards for the titles when they release. The games they'll be showing are Assassin's Creed Origins, Far Cry 5, For Honor, Mario + Rabbids: Kingdom Battle, South Park: The Fractured But Whole, Just Dance 2017, and The Crew 2.
Microsoft has been quite open with the games they're bringing to Gamescom, but with the Xbox One X making an appearance there are sure to be a number of new announcements both surrounding device features and new games. Forza Motorsport 7 will be a headline game for Microsoft, and on the Monday there will be a n event held specifically to celebrate the 20th anniversary of the Age of Empires series, as well as give fans a look at the upcoming Definite Edition.
Nintendo is planning to show off more gameplay of Super Mario Odyssey, though at this point they need to be careful or they'll give too much away. Yoshiaki Koizumi, a developer working on the game, will also be giving a special talk after the gameplay demonstration. Among the games available to play will be the Sand Kingdom and Metro levels from Mario's latest title.
Ahead of the release of Metroid: Samus Returns for 3DS the game will be featured at Gamescom among the representation for the console. While there's currently no further news for Metroid Prime 4, this might be the event that some gameplay is finally revealed. What we do know is that there will be additional live presentations for Xenoblade Chronicles 2 and Fire Emblem Chronicles.
Sony has been a little less active at a Gamescom conference in recent years, however Jim Ryan, a representative for Playstation, told Game Reactor in an interview that it would be nice to do something bigger in Europe this year. While this is only a hint that Sony might be doing something big at Gamescom, it does have some new games releasing in 2017 such as Vampyr, and Days Gone in 2018.
Uncharted The Lost Legacy is also expected to be part of Sony's presence at Gamescom, and since the last game in the series was so well received it should be prevalent for most of the show. Sony may also be showing new details of Gran Turismo Sport, a highly anticipated racing simulator title that looks to bring the series online.
EA is hosting a live event on August 21st, and will be showing new details for and letting fans play, Star Wars: Battlefront 2, FIFA 18, Need for Speed Payback, and new DLC for Battlefield 1, Name of the Tsar. They should also be showing some new gameplay of the console versions of The Sims 4 as well, since the titles are due out later this year.
Bethesda is expected to make some follow-up announcements from their appearance at E3 this year. Currently they're pushing the upcoming standalone story in the Dishonored universe, Death to the Outsider so this should be a main focus. Wolfenstein 2 is also a big upcoming release for Bethesda, and there's no doubt that the company will be offering up a new level for fans to play at Gamescom. In addition we may also see some new details for The Evil Within 2, and one of the most highly-anticipated Nintendo Switch games, Skyrim.
We may also get some news and updates for Bethesda's online titles, The Elder Scrolls Online and Quake Champions, though Quake news is usually reserved for Quakecon.
Square Enix has confirmed that they'll be revealing some good news at this year's Gamescom with regards to Final Fantasy 15. A new expansion for the game has recently been announced so it may be gameplay details for that. Square Enix will also be telling us more about the Prequel to Life is Strange that they announced at E3.
CD Projekt Red are expected to be revealing more about the Witcher card game, GWENT, and has already confirmed that they'll be hosting an 8 player tournament with a prizepool of $25,000. They're also expected to confirm some details about the plans for turning the game into a eSport.
Finally, it's expected that Yu Suzuki will be revealing more about Shenmue 3 even though the game has been delayed into 2018. However, the official site confirms that there will be no large announcements or demos for the title at Gamescom.
There will also be a host of other publishers, developers, manufacturers, distributors, and retailers at the event, as it still remains a place for games industry people to network and exchange information about their experiences, as well as come together to work on future projects.