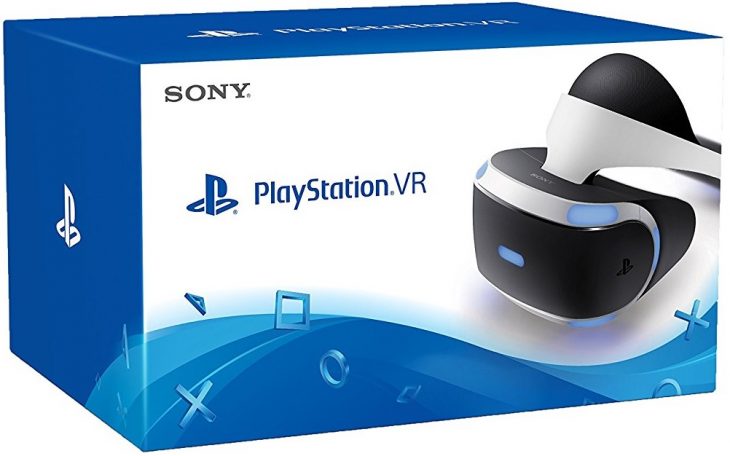 In the three months starting from June of this year Sony has sold more than 500,000 PSVR units of PlayStation VR headsets. The headset saw a price drop at the beginning of September alongside a drop in price among other VR headsets such as the Oculus Rift.
This news comes on the back of a market report that showed that VR headsets made up 98% of the shipments from the combined AR/VR market over the same time period. Screenless viewers accounted for roughly half the users in this quarter, meaning headsets such as Playstation VR which don't require a monitor in order to be used or set up.
Tethered VR headsets are up this quarter from 34% to 43%. This is largely attributed to the recent price drop in VR headsets, particularly the Oculus Rift and Playstation VR which are among the cheapest on the market. Playstation VR is still hanging onto the place of cheapest VR headset on the market because of this.
The AR segment has in fact decreased over the last year due to several big augmented reality launches either not happening or failing to generate the momentum imagined for them.
Playstation VR is one of the most popular virtual reality headsets on the market. With a huge install base of over 63 million Playstation 4 owners, the headset is a far cheaper VR option to those who already own a console when compared to the price of buying both the headset and the console or a new PC and a headset.
Another contributing factor will be the range of games available on Playstation VR. The launch of Farpoint and the Aim Controller was a great success, and many Playstation VR users have praised the new controller for how good it is in shooter VR games or first person VR games like Resident Evil 7. With the announcement of a release date for Resident Evil 7's next DLC sales for Playstation VR are likely to continue to increase.
Top 5 Worldwide AR and VR Headset Companies, Shipments and Market Share, Q2 2017
Manufacturer
2Q17 Volume Volumes
2Q17 Market Share
Samsung
568,000
26.7%
Sony
519,400
24.4%
Oculus
246,900
11.6%
TCL
106,400
5.0%
HTC
94,500
4.4%
Others
594,800
27.9%
Total
2,130,000
100.0%
Source: IDC Worldwide Quarterly AR/VR Headset Tracker, September 5, 2017
Samsung have dominated the VR market thanks to the launch of the Galaxy S8/8+, which have helped to sell more units of Gear VR. However, overall Samsung experienced a significant decline in sales year-on-year with a Q2 2017 market share of 26.7% and 568,000 units sold. The average selling price of the product has seen an increase thanks to the introduction of a controller.
Early indications are that Samsung won't be offering any bundles of the Note 8 and Gear VR, a key contributor to the company's success to date. This means that Note 8 owners will have to find a Samsung VR and purchase it separately if they want to use it.
Sony are currently second in the top five AR and VR headset companies worldwide with a Q2 2017 market share of 24.4% and 519,400 units sold.
Facebook, owners of Oculus VR, are in third position in the list with a Q2 2017 market share of 11.6% and 246,900 units sold. This is the quarter in which the price for the Oculus Rift dropped from $599 to $499, helping it get ahead of HTC in the chart. Oculus was the first company to drop the price of their tethered VR product, a move that companies such as Sony followed. This tactic is paying off in terms of sales, and the company's willingness to alter price points has proven to aid their retail market strategy so far.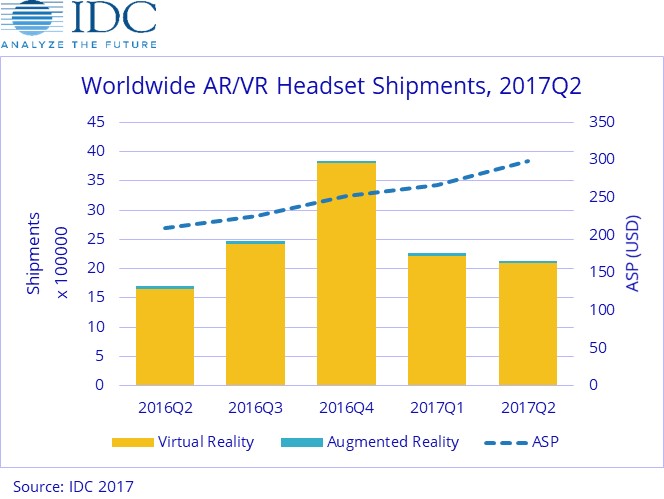 TCL are fourth in the chart with a Q2 2017 market share of 5.0% and 106,400 units sold. While the company's VR range doesn't have as expansive a content ecosystem as competitors, TCL are still managing to sell large quantities of their VR bundles. The leading product for TCL is the Alcatel VR Headset, though some changes must be made if TCL want to establish themselves as a leading VR company.
Finally HTC come in at fifth position in the chart with a Q2 2017 market share of 4.4% and 94,500 units sold. This is a drop in rankings for HTC, though the company is still one of the major players in the VR market. HTC has also brought the price of their headset, the HTC Vive, down recently to around $599, but there is still a significant difference between other headsets on the market.
Other companies in the market made up the rest of the market share, 27.9%, for Q2 2017 with additional sales of various headsets accumulating to 594,800 units sold. Overall around 2,130,000 units were sold in the AR/VR segment.