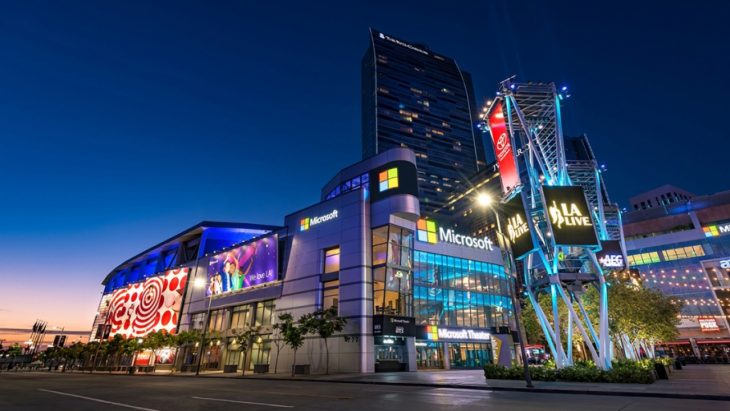 This week the biggest names in games have been holding their press conferences at E3 2018. The event is now open to the public and press until June 14, 2018, allowing them to play some of the newly announced titles. Here is a roundup of the biggest news from the pre-E3 press conferences.

EA Games

EA kicked things off with their press conference, featuring confirmation of their annual releases; FIFA 19, Madden NFL 19 (which is coming to PC for the first time), and NBA Live 19. As with every year each of these games is seeing significant improvements to graphics, animations, and gameplay, though FIFA 19 is particularly interesting because it has gained the license for the Champions League from previous rivals Konami.
EA also confirmed the existence of a brand new Star Wars title from Respawn Entertainment, Star Wars Jedi Fallen Order, which will see players taking on the role of a Jedi. They added that Star Wars: Battlefront 2 would be getting new content in future updates from a highly-requested time period, The Clone Wars.
More of Battlefield 5 was shown, including the first ever story trailer, but the biggest news about the World War 2 shooter was the confirmation of a Battle Royale mode that would release later in 2018.
By far the biggest news from EA's conference was about Anthem. EA revealed a new trailer for the game and confirmed that the MMO wouldn't make use of controversial loot boxes. Finally they added a release date for the previously delayed title, February 22, 2019. To add something really special to their conference EA revealed and released Unravel Two in the middle of it.

Microsoft

This was a big E3 year for Microsoft, showing a number of world premieres and brand new Xbox One exclusive titles. Whilst they featured a number of titles from other names hosting a conference such as Bethesda and Ubisoft they also had an exciting lineup of their own.
In terms of Xbox exclusives the biggest announcements were; Gears of War 5, which looks to take players to the frozen North and the origin point of Emergence, Halo Infinite, a new title in the Halo Universe featuring Master Chief, Forza Horizon 4, Battletoads, and Ori and The Will of the Wisps. Fans were extremely excited to see a new entry in the Gears of War franchise, but the tease of a new Halo game was easily the most unexpected reveal.
Microsoft showed updates that are releasing later this year and in 2019 for PUBG, including a new map, new weapons, and new vehicles. An update to Cuphead was also announced which will add a number of new bosses to one of the hardest games on the market, as well as a brand new playable character. Two expansions for Sea of Thieves were announced as well, Cursed Sails and Forsaken Shores.
Worldwide premieres featured heavily in Microsoft's conference. Dying Light 2 was both revealed and had new gameplay, showing how much the series has changed from the first title. The Division 2 was another surprise feature at the conference, with gameplay shown for the first time, including a brand new world map to explore, abilities to master, and enemies to take down. Microsoft also revealed a new trailer for and announced Just Cause 4, which seems to be taking the series to its most-intense enemy faction yet, the Black Hand. Additionally a new story trailer for Shadow of the Tomb Raider was revealed, with further details of the story and the development of Lara Croft.
From Software had their new title, first teased last year, Sekio: Shadows Die Twice officially revealed. This was surprising given that From Software have released PlayStation exclusive games in the past, though it was expected that their next title would be multi-platform.
Metro Exodus got a new trailer and a release date at long last, February 22, 2019, and a new title that brings anime worlds such as Naruto and BragonBall Z together in a new fighter was announced, Jump Force. Finally, Devil May Cry 5 was revealed with a cinematic trailer, bringing an end to the question of whether the series was heading down this route, or a DMC sequel.

Bethesda

Bethesda definitely had one of the most exciting press conferences for fans of the entire event. With the reveal of Fallout 76 the week before, Bethesda went into detail about what this game will be. They confirmed that it would be an online survival RPG with elements of base-building, bringing the Fallout universe to a similar place as The Elder Scrolls Online but with dozens of players in a single world, not hundreds.
New DLC was announced for Wolfenstein: The New Colossus starring two new characters, Wolfenstein: Youngblood. Arkane Studios chimed in with an update on DLC for Prey, launching Mooncrash the same evening, and announcing Typhon Hunter for later the same year as a release which is also compatible with VR.
New game announcements included Rage 2, even though the title was accidentally leaked a few weeks ago, The Elder Scrolls 6, a brand new IP, Starfield, Doom Eternal, and The Elder Scrolls Blades for mobile devices. This last title is a fully realized Elder Scrolls game contained within smartphones and tablets.
The gameplay walkthrough for Rage 2 showed new details and even the game's collector's edition, featuring a singing mounted head. The Elder Scrolls 6 was by far the biggest announcement however, but Bethesda revealed it right at the end of the show as they stopped, leaving fans wanting so much more.
Bethesda seem to be doubling down on the mobile market, launching an update for Fallout Shelter as well as releasing it for PlayStation 4, Xbox One, and Nintendo Switch. The Elder Scrolls Legends has also had an update and is now available on Nintendo Switch as well.

Ubisoft

Ubisoft had a plethora of fantastic games to show off. The biggest news was Assassin's Creed Odyssey, another game leaked early. In this title players take on the role of a Spartan warrior in Ancient Greece, and unlike with Assassin's Creed Origins there isn't long to wait since the game launches this October.
More Beyond Good and Evil 2 details were shown, featuring the protagonist of the first game, Jade, as a returning character. The Crew 2 had an open beta announcement, encouraging gamers to sign up and make the most of their free time with the game. For Honor had a large update revealed including a new game mode, Breach. Just Dance 2019 was confirmed, and Skull and Bones had a new gameplay trailer of its PVPVE gameplay, though no release date has been announced as of yet.
The Division 2 saw a lot more information released. Ubisoft are keen to tell fans of the original, and players who dropped off after the campaign, that The Division 2 will have much more end-game content to keep players interested. They also told fans that DLC for The Division 2 will be completely free for everyone in the first year after launch.
Smaller titles were also announced, such as Trials Rising which will be a new Trials game. Transference, a title from Elijah Wood, had a new trailer and confirmation that it will be coming to VR and consoles this fall. Finally a new Star Fox title was announced with a gameplay trailer and Starlink: Battle for Atlas is confirmed to be releasing on October 16th.

Square Enix

Square Enix showcased a showstopper with the Microsoft press conference in Shadow of the Tomb Raider, as well as Kingdom Hearts 3. For their own press conference they discussed Final Fantasy 14 Online, and how an update featuring content from Monster Hunter World would be coming to the game soon.
New gameplay was shown for Dragon Quest XI: Echos of an Elusive Age, and a release date of September 4, 2018 was confirmed for PlayStation 4. A crossover between Dragon Quest and Final Fantasy Brave Exvius will also occur around the same time.
A cinematic trailer showed Babylon's Fall, a new four player game from Platinum Games, through no details have been established about what the gameplay will be as of yet. It's thought that the game will play similarly to Bayonetta.
Just Cause 4, while announced at Microsoft's conference, saw some new details revealed in the reworked mechanics of Rico and his gadgets. New enemy types and the brand new environment were also showcased, with a confirmation of December 4, 2018 as the release date as well.
A new title called The Quiet Man was revealed, though no details were given. It seems to blend live action and gameplay seamlessly, using silence as a weapon in some way.
A new title in the Life Is Strange universe, The Awesome Adventures of Captain Spirit, was again revealed at Microsoft's conference, but further details were given here. Apparently players can customize their hero, and while the story takes place in the same universe it has nothing to do with the wider Life Is Strange story.

Sony

Sony's conference seemed a little unusual this year by its structure. Many journalists thought it was a little confusing, the organizers of the press conference tried to be unnecessarily creative in the way they presented the content. For example participants had to move from one room to another for each new presented game which created a little chaos, and some other similar problems.
Despite this Sony still had some of the most-anticipated games in their conference. They kicked things off with a new gameplay trailer for The Last of Us Part 2, showing Elie attacking a group of new enemies utilizing new crafting and stealth mechanics. The game is set to be as groundbreaking as the original, even though none of the infected enemies have made an appearance in trailers or gameplay yet.
A new title from Remedy saw a small trailer, Control. In the trailer players look to be able to move objects with telekinesis, and have an interesting array of enemies to fight. Deacrine, a new title developed by From Software, is coming to VR and had a short cinematic trailer.
Both Nioh 2 and Resident Evil 2 Remake were revealed with new trailers. Some gameplay of Resident Evil 2 Remake was shown, while Nioh 2 simply had an cinematic trailer with large demons fighting. God of War had a New Game+ mode announced, and a return to the Pirates of the Caribbean World was shown for Kingdom Hearts 3.
While the focus began with The Last of Us Part 2, it swiftly moved to Hideo Kojima's new game, Death Stranding. Some gameplay was shown, but as ever with Kojima games it was cryptic and gave almost nothing away. It now seems like the enemies in the game cause accelerated aging in addition to destroying environment, but players are also unable to die when attacked by them for some reason. What gameplay was shown saw characters delivering items.
Ghost of Tsushima then drew the focus of the show with a new gameplay trailer. Set during the Mongul invasion of Japan, the protagonist, a samurai, is fighting both outward and inward enemies in order to save his homeland.
Spider-Man was the finale of the show, and featured a long gameplay trailer that demonstrated the web-slinging and combat like never before. A total of 5 villains have been confirmed in the game including Scorpion, Vulture, Mr Negative, Rhino, and Electro. A final villain shows up at the end of the trailer but is never revealed to the audience.

Nintendo

Nintendo were the last to hold their E3 conference in the form of a Nintendo Direct. Possibly the biggest news of the night is the fact that Fortnite is now available on Nintendo Switch from the eShop, and it doesn't force players to use a touch screen in order to play. The battle royale giant is slowly coming to every platform and the Nintendo Switch is one of the last.
The new Super Smash Bros game has been named and revealed as Super Smash Bros Ultimate. The game will launch on December 7, 2018, and has the largest roster of characters in a Smash Bros game to date. New characters have been announced in the lead up to E3, but other characters such as Link will have alternate versions as well. Nintendo confirmed that they will continue to support Gamecube controllers for the Switch with this new installment.
A new Fire Emblem game for the Nintendo Switch was announced, Fire Emblem: Three Houses, and is the first on a Nintendo console in 11 years. The game will launch in Spring 2019.
Pokemon Let's Go Eevee and Pikachu saw new trailers but no new details about exactly what players will be doing in them. Two new titles, Super Mario Party, a new installment in the Super Mario Party franchise, and Daemon X Machina, a cel-shaded mech title, were announced for Nintendo Switch as well.
A slew of indie titles were announced as releasing for Nintendo Switch, including Fallout Shelter which is now available. Finally Xenoblade Chronicles 2 – Torna: The Golden Country was announced as a major expansion set 500 years before the events of the core game. The expansion launches for Expansion pass owners as a standalone title on September 14th, and September 21st for everyone else.
Conclusion
This year has been one of the biggest in the history of E3. As games media moves closer to the end user publishers and other game companies are eager to impress fans with power moves such as releasing games at their conference. While this is great for gamers it also puts more power in the hands of consumers, giving them the ability to say what they want with their actions and remove any third parties in between. As of this event the rest of 2018 and 2019 are looking very promising for the games industry, emphasized even more so when the excitement being seen now is without the announcement of any new games consoles.