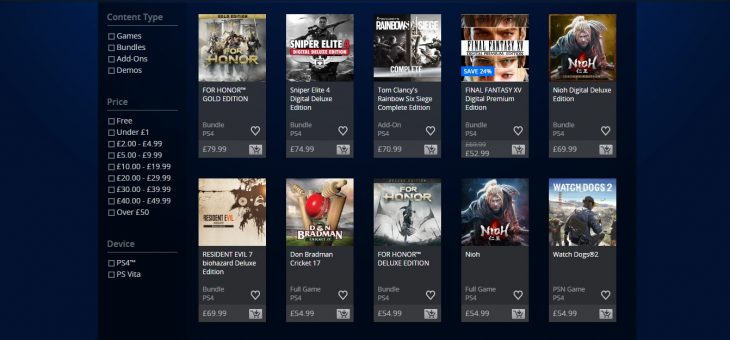 At this time of year many companies, including video game developers, are submitting their yearly financial reports. Some have noticed a trend forming from these reports, showing an increase in digital sales during 2016.
Microsoft's report saw software sales and revenue increase by 18 percent on the previous year, adding that digital transactions totalled $1 billion (£800 million) this quarter. Their gaming division revealed that the Xbox online service, Xbox Live, now has 55 million users. This is a growth of 15 percent on last quarter.
EA, the publisher behind popular games such as Fifa, Battlefield, and Titanfall 2, were expecting 29 percent of their sales to be digital. The company's financial report revealed that the actual figure was even higher, with 32 percent of unit sales attributed to digital. A representative from EA commented on the figures telling the press that the 32 percent is a trailing number for all EA's titles from current gen consoles. Year on year this figure has increased from 20 percent in 2015, to 24 percent in 2016, showing how huge the jump to 32 percent this year is for the company's financial report.
In the US and Europe Capcom has reported high digital sales too. They saw an increase of 21.1 percent in digital sales, selling 6.1 million digital units over the last nine months.
Take Two, publisher of games such as GTA V, had a very impressive year, with digital sales skyrocketing by 64 percent totalling $240 million (£192 million). Interesting that 39 percent of digital sales income was from DLC and consumables for Civilization VI, NBA2K17, and GTA V. The publisher added that Q3 was their best quarter for recurrent consumer spending, and contributed 20 percent of their net revenue of $476.5 million (£381 million).
Conversely, SEGA saw an increase in physical unit sales over digital units sales, with an increase in Q3 of 29 percent year-on-year totalling £267 million. SEGA's digital sales still grew, but only by 6 percent making a total of £250 million.
Sony and Nintendo are yet to release exact figures detailing digital versus physical unit sales. Nintendo have issued a statement telling us that digital sales were also during the same period last year, to which the Nintendo Wii U can be blamed for. Hopefully Nintendo see an increase in digital sales this time next year as a sign of success for the upcoming Nintendo Switch.
Find Digital Distributors and Retailers
Become Annual Member and get access to our list of suppliers of wholesale video games.