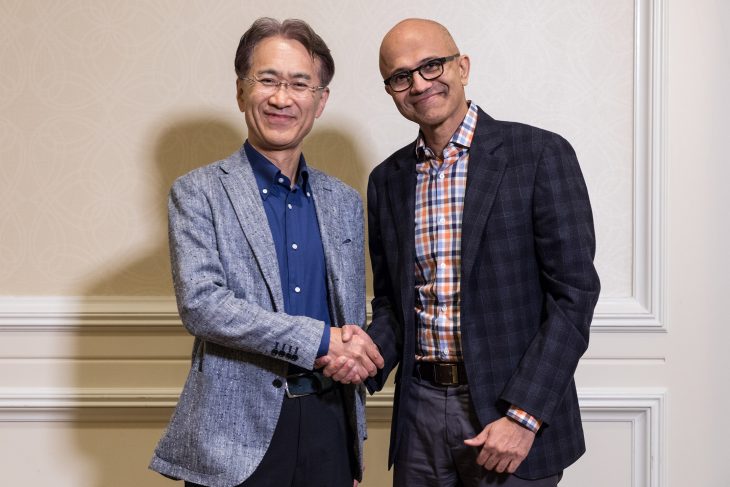 Sony's Kenichiro Yoshida and Microsoft's Satya Nadella. Source: Microsoft
Gaming giants Microsoft and Sony have announced a partnership agreement that will see the companies collaborate on both AI and cloud streaming services. The agreement will likely cause significant ripples, with the two companies generally pitched as great rivals whose competing consoles, the PlayStation 4 and Xbox One, faced up to one another in the "console wars" when they hit the shelves five years ago.
Sony CEO Kenichiro Yoshida highlighted that Microsoft have been "a key business partner for us" for years, despite "competing in some areas" and announced ambitious plans for the collaboration. "I believe that our joint development of future cloud solutions will contribute greatly to the advancement of interactive content," he said, before announcing even more elevated goals for AI, saying he hoped their joint research would "lead to the creation of new value for society."
Microsoft's Azure cloud services appear to be key to the partnership. Microsoft have been more vocal and ambitious regarding cloud gaming than Sony, incorporating Azure into games like Crackdown 3 and announcing Project xCloud and the potential for hardware free gaming.
Satya Nadella, Microsoft's CEO, emphasised the importance of Azure in his announcement of the agreement. "Our partnership brings the power of Azure and Azure AI to Sony to deliver new gaming and entertainment experiences for customers."
Sony have also experimented with cloud streaming in PlayStation Now but their recent announcement of a PlayStation 5 suggests they remain committed to a hardware model. They have, however, been experimenting with semiconductors and AI and presumably believe they can build on this in partnership with Microsoft.
Perhaps the biggest factor behind the partnering of two great rivals is the potential impact of Google's Stadia. The tech giant's plans for a cloud based gaming service capable of delivering the type of AAA games Sony and Microsoft have made their own for years is a clear threat to both companies.
Partnering up in the face of such a great threat may prove to be an inspired decision for Sony and Microsoft. Gamers, who have at times suffered by being forced to choose Microsoft or Sony (eg for their online gaming community), may also benefit from the move.