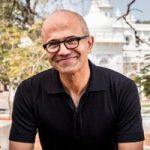 Satya Nadella is the current Chief Executive Officer (CEO) of Microsoft. Mr. Nadella succeeded Steve Ballmer in 2014. Prior to becoming Microsoft's CEO, he was Executive Vice President of Microsoft's cloud and enterprise group.
Satya Nadella was born in 1967 in India. He went to the Hyderabad Public School, Begumpet, then received a bachelor's degree in electrical engineering from the Manipal Institute of Technology in Karnataka in 1988. Satya Nadella then moved to the U.S. and studied computer science at the University of Wisconsin–Milwaukee where he received Ms. Science. He Later received an MBA degree from the University of Chicago Booth School of Business.
---
Profiles and Links:
---
Related News
Read all related news...