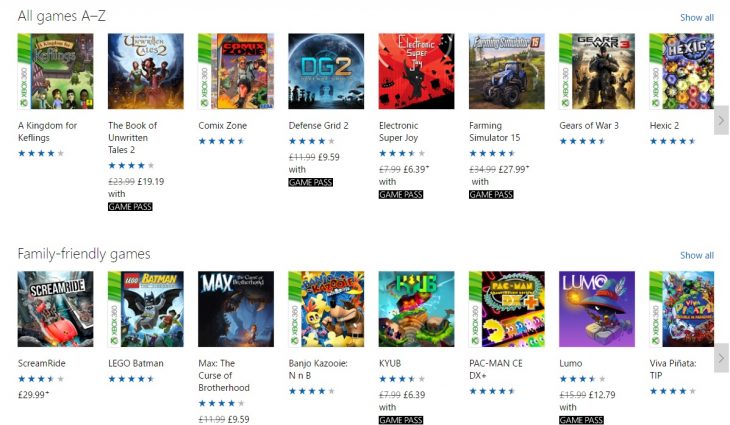 After releasing early for Xbox Live Gold members, the Xbox Game Pass launches today for all Xbox users. The pass allows customers to gain access to a library of 100 games, which will regularly refresh, for them to download to their home console.
The pass is available as a 14 day free trial for customers to try out before purchasing the pass itself for £7.99 a month. The current games library includes both Xbox 360 and Xbox One games, including Payday 2, Halo 5: Guardians, Gears of War 4: Ultimate Edition, Bioshock Infinite, and a host of indie titles such as Defense Grid 2.
In addition to having access to all of these games for the flat monthly fee, customers are also entitled to discounts if they want to purchase one of the games they're enjoying. There is a 20 percent discount on full game purchases, and a 10 percent discount on DLC. It is important to note that this is only applicable to Xbox One titles.
The Xbox Game Pass is similar to Nextflix or Amazon Prime, in that customers have access to a list of games, much like the list of TV shows and movies available in these other services. These lists are ever-changing and with the Xbox Game Pass older games will be removed to make way for newer titles. Should a player be enjoying one game in particular when it's about to be removed from the service they now have the opportunity to buy it at a discounted rate. Even services like Netflix do not offer customers this opportunity.
It's hard to discuss the Xbox Game Pass without mentioning Playstation Now, even though the two services are totally different. The Xbox Game Pass gives customers access to 100 games which they are able to download and play at home. The only disadvantage to this, is the fact that customers will be limited by their console's storage capabilities when it comes to downloading more than one game. Playstation Now lets customers stream games to their consoles, removing the need for any installation and making it far easier to play more games from the list of available titles.
According to Phil Spencer, Xbox Boss, initial sign-ups to the pass are strong, indicating that many Xbox users are receptive to the idea of a Nextflix-style game library.