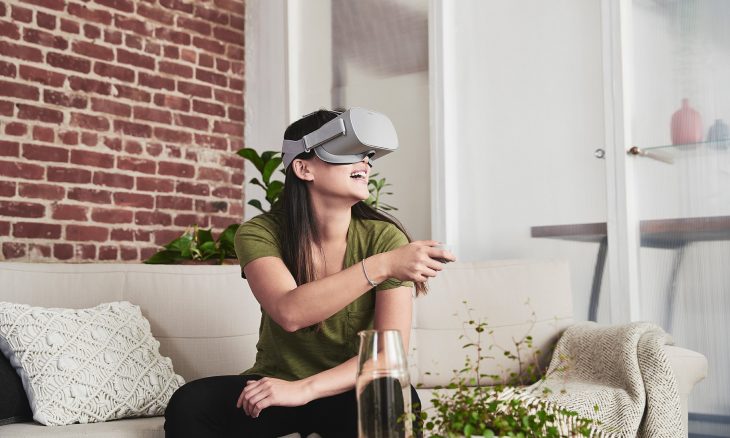 Facebook owned Oculus has revealed a new virtual reality headset that's a standalone unit designed to work without a smartphone or PC. The headset was made to extend the appeal of Oculus technology a wider market.
The new headset is called Oculus Go, and as the name suggests it's completely wireless. Oculus said in a blog post that this all-in-one virtual reality device makes the technology more accessible than ever, representing a massive leap forward in ease of use, visual clarity, and comfort.
Oculus Go will cost $199, a huge drop in price from the Oculus Rift, which costs $399 on its own, thanks to a recent discount, with another $500 for a personal computer to run the device. The device fills the gap in the market between the Oculus Rift and Samsung Gear, offering a better VR experience than the Gear without the need for an additional device. It is thought that the Oculus Go will use a similar processor as Samsung smartphones, and use an Android-based operating system.
Brian Blau, an analyst with the Gartner research company, said that Facebook's strategy with the Oculus Go is to make VR as easy and cheap as possible. $199 is a far cheaper option than any other headset on the market, but it's also a device that will only run virtual reality experiences. With other headsets users have the option to play other types of games that aren't necessarily made for virtual reality.
Google is also working on a standalone virtual reality headset, but they haven't released any information regarding the release date or price of their device as of yet. Currently Google offer a virtual reality device that requires a smartphone, much like the Samsung Gear, called Google Daydream View for $99.
Mark Zuckerberg, co-founder of Facebook, is a firm believer that virtual reality is going to evolve as a technology that will revolutionise the way people experience life and interact with each other. Facebook has more than 2 billion users, and so Zuckerberg's words carry quite some weight considering his company has already changed the way we interact with technology and with others again and again.