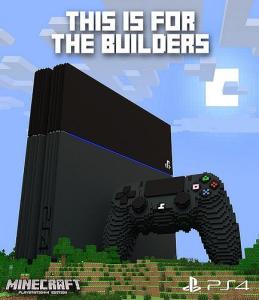 Sony has announced the release date of boxed version of Minecraft for PlayStation 4 platform on October 3rd, 2014. The release date of the boxed product has already been moved a few times this year, this times it seems to be final date with less than two weeks remaining. The digital version was already available earlier in this month.
Minecraft has been hugely popular on other platforms, and was initially released for PC in 2009, and sold over 55 million copies since then, the biggest ever sale of any game on the PC. The game was later released for Xbox 360 in 2012, and for Playstation 3 at the end of 2013.
Big news about acquisition of the Swedish game developer of Minecraft, Mojang, for £2.5bn, arrived on 15 September 2014. Some fans were concerned about the future of the game, though Microsoft seemed to reassure the gaming community that nothing will change and the game will continue to grow and get updates as usual. Although the game is now owned by Microsoft, the Playstation platforms will continue its existence too, with the PS3 platform enjoying large sales and appearing in top 10 of video games every week, and with PS4 platform releasing soon.
Related Topics:
Microsoft
,
Minecraft
,
Sony
Related:
---