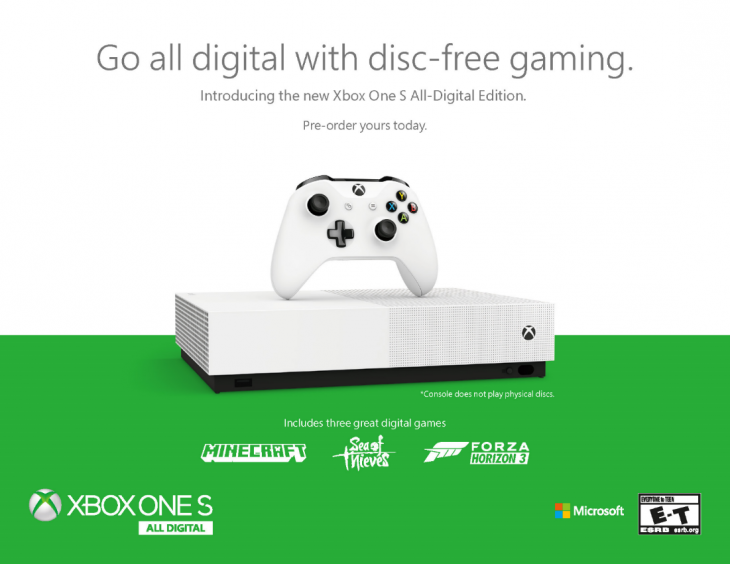 Influential physical retailers GAME and GameStop have responded to Microsoft's announcement of an Xbox One S All-Digital Edition. The console, which will have the same performance specs as the Xbox One S but no disc drive, will cost £ $249.99 (inclusive of three games) when it launches on May 7, 2019.
The price point means that the Xbox One S All-Digital Edition will be $50 cheaper than the standard Xbox One S. It has, therefore, been received by some commentators as a threat to retailers of physical games and a further move towards the digitization of the console market.
GAME and GameSpot have both responded to these suggestions with a robust defense of their market position and priorities.
Eric Bright, vice president of merchandising for GameStop, highlighted the fact that Microsoft's move to a console without a disc drive won't prevent GameStop from selling games for the Xbox One S All-Digital Edition. GameStop, he emphasized, have a "full digital agreement with Microsoft that allows us to profitably sell digital games."
GameStop have endured a difficult 12 months, posting considerable losses as they adjust to a market in which pre-owned sales have declined by 13% year-on-year. Nonetheless, Bright pointed to a recent customer survey which suggests that many gamers still prefer to purchase physical copies of games.
The survey, carried out on GameStop PowerUp rewards customers, found that around half of the respondents stated a console without a disc drive would "negatively affect their desire to purchase the new console."
GAME CEO Martyn Gibbs took a slightly different approach to the news of the Xbox One S All-Digital Edition. He acknowledged that the console was part of a "continuous evolution of the market" and emphasized the evolution his own company is going through as a result. Gibbs referred to this evolution as a "transformational strategy to move from a seller of physical products to providing gaming experiences and services."
Key to GAME's strategy is a growth of the e-Sports side of their business. They are keen to roll out more Belong gaming arenas to the high street and will hope, like GameSpot, that they can remain relevant in an increasingly challenging market for physical retailers.