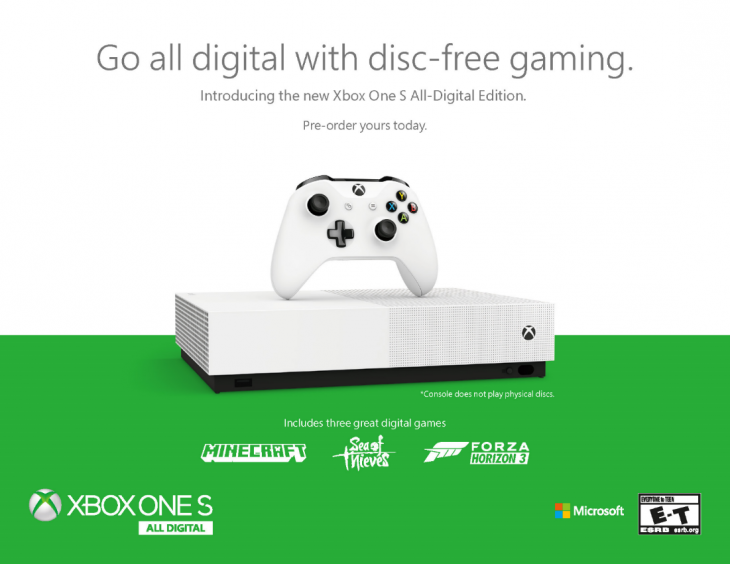 Yesterday, after a number of particularly accurate leaks and rumors, Microsoft revealed the new Xbox One S All-Digital Edition. The console was revealed during last night's Inside Xbox event, alongside a release date for the new console of May 7, 2019.
As the name suggests, the Xbox One S All-Digital Edition is a digital-only console that contains no optical drive for reading data from traditional game discs. Instead the console relies solely upon games being downloaded from the Xbox Marketplace, or potentially streamed to it in the future.
A number of rumors have been circulating recently regarding a discless Xbox One console. It appears now as though these rumors were correct, including the announcement and release date of the new product.
The Xbox One S All-Digital Edition comes packaged with the console itself, minus the optical disc drive, and a single Xbox Wireless Controller. The console has a 1TB hard drive and supports 4K Ultra HD and HDR video, just like the Xbox One X.
Microsoft announced that the All-Digital Edition of the Xbox One S will always be $50 cheaper than the standard Xbox One S console. Even if the standard console receives a discount in the near future, that discount will also be applied to the All-Digital Edition in order to keep its price lower. Microsoft revealed that the Xbox One S All-Digital Edition will go on sale on the 7th of May 2019 for $249.99, making it about as affordable as the slimline PlayStation 4 console.
Right now the Xbox One S All-Digital Edition can be pre-ordered as a bundle that comes with Sea of Thieves, Minecraft, and Forza Horizon 3. Anyone who purchases the console will also receive a deal that gives them access to the Xbox Game Pass for three months for $1, which would normally cost $30.
In addition to the Xbox One S All-Digital Edition, Microsoft announced the Microsoft Game Pass Ultimate. This pass combines Xbox Live Gold and the Xbox Game Pass into one package that costs $15 a month. The company didn't announce a release date for this pass, meaning it probably won't be available when the Xbox One S All-Digital Edition releases.