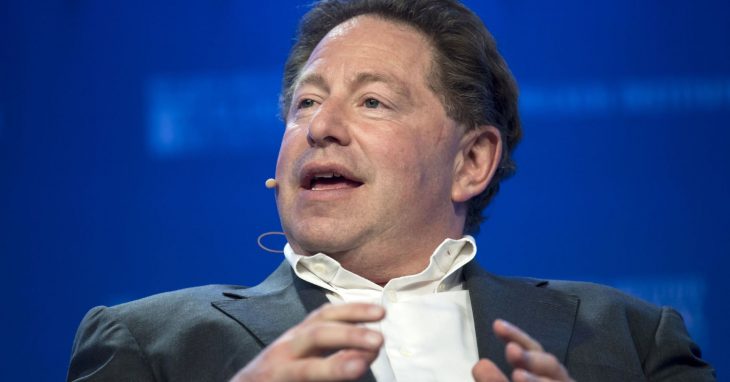 Photo: CNBC
Game Workers Unite, the prominent workers rights group, has sparked a number of calls for the CEO of Activision Blizzard, Bobby Kotick, to be fired.
Game Workers Unite took to Twitter yesterday amid news of the hundreds of layoffs occurring over at Activision Blizzard. The company is reported to be letting around 800 staff go even though they reported record levels of revenue. On Twitter the hashtag that became associated with the situation was #FireBobbyKotick.
Game Workers Unite called out Kotick as a thief. They stated that he chose to spend the lives of around 800 staff while taking millions of dollars in bonuses for himself and other executives. The group specifically said that this was not leadership, but theft.
Earlier in the week Activision Blizzard announced that they would be letting about 8 percent of the company's staff go during 2019 as part of their plan for a transitional year. This equates to about 800 people from the non-game development areas of the business.
During the earnings call in which Kotick announced the layoffs, he said that the company hadn't grown at the expected rate. As such, layoffs would be made and the company will be restructured in order to better target the levels of growth the company has in mind.
Game Workers Unite pointed out that Kotick's own salary of $30 million could be used to help support the 800 people being let go. Their point is that there is no reason to lay off staff when it would make better financial sense to cut higher salaries and support the company as a whole.
The argument Game Workers Unite puts forward is that Activision Blizzard are actively harming the games industry. They claim that they're prioritising shareholder profits over the lives of their staff, as well as the quality of the games they produce.
Activision Blizzard parted ways with Bungie earlier in the year as a result of what they said were poor sales. Bungie, on the other hand, reported at the time that sales of the latest expansion for Destiny 2, Forsaken, were good.
While Game Workers Unite doesn't have the power to force Activision Blizzard to fire Kotick, this news does draw attention to the company in a bad light.