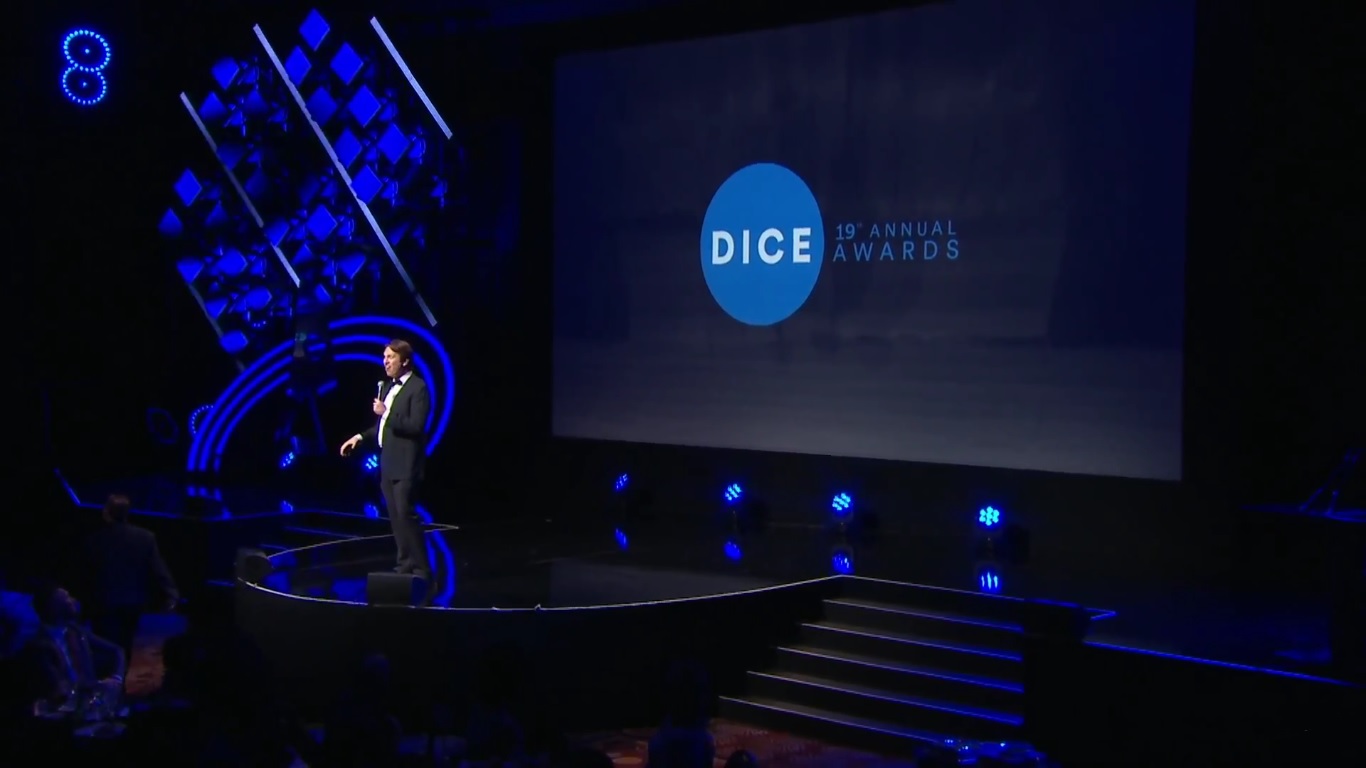 DICE's 19th annual award ceremony, in collaboration with the Academy of Interactive Arts and Sciences, has just been held on the 18th February.
A total of 53 games received nominations for a variety of awards, including the typical Game of the Year and genre- specific awards, as well as Hall of Fame and Lifetime Achievement awards.
The event was hosted by some major industry names, such as Psychonauts' creator Tim Schafer. It was also jointly hosted by film director and Hideo Kojima collaborator Guillermo del Toro.
The big winner of the event, taking home the coveted Game of the Year award was Fallout 4. Bethesda's latest entry in their reboot of the classic post-apocalyptic RPG beat stiff competition in the form of The Witcher 3, Rise of the Tomb Raider, Bloodborne and Ori and the Blind Forest.
Not content with just the Game of the Year trophy, Fallout 4 went on to win two other awards, which were Outstanding Achievement in Game Direction and Roleplaying/Massively Multiplayer Game of the Year. Furthermore, Bethesda's first ever mobile game, Fallout Shelter, won Mobile Game of the Year.
CD Projekt Red's The Witcher 3: Wild Hunt also received high praise in the form of three awards and eight nominations. The RPG hit took home Outstanding Achievement in Game Design, Outstanding Technical Achievement and Outstanding Achievement in Story.
Newcomer IP Ori and the Blind Forest managed to beat competition in an impressive three awards. These were Outstanding Achievement in Animation, Outstanding Achievement in Art Direction and Outstanding Achievement in Original Music Composition.
Hideo Kojima was inducted into The Academy of Interactive Arts and Sciences' (AIAS) Hall of Fame. The accolade was presented to him by Guillermo del Toro, who collaborated with him in a cancelled Silent Hills project. The president of the AIAS, Martin Rae, said that Kojima has shaped much of the videogame industry's approach to both cinematic storytelling and player engagement.
The award has previously been given to the likes of Leslie Benzies and Dan and Sam Houser of Rockstar, Gabe Newell of Valve and Shigeru Miyamoto. Miyamoto himself was honoured with the Lifetime Achievement Award for his work with Nintendo.
The remaining winners were:
Action Game of the Year: Star Wars Battlefront
Fighting Game of the Year: Mortal Kombat
Family Game of the Year: Super Mario Maker
Outstanding Achievement in Character: Rise of the Tomb Raider – Lara Croft
Outstanding Achievement in Sound Design: Star Wars Battlefront
Strategy / Simulation Game of the Year: Heroes of the Storm
Sports Game of the Year: Rocket League
Racing Game of the Year: Forza Motorsport 6
Outstanding Achievement in Online Gameplay: Rocket League
Handheld Game of the Year: Helldivers
Technical Impact Award: Microsoft Basic
Adventure Game of the Year: Metal Gear Solid 5
DICE Sprite Award: Rocket League
Related Topics:
D.I.C.E. Awards
,
Fallout 4
,
Forza Motorsport 6
,
Gabe Newell
,
Guillermo del Toro
,
Helldivers
,
Heroes of the Storm
,
Hideo Kojima
,
Leslie Benzies
,
Mortal Kombat
,
Rise of the Tomb Raider - Lara Croft
,
Rocket League
,
Sam Houser
,
Shigeru Miyamoto
,
Star Wars: Battlefront
,
Super Mario Maker
,
The Witcher 3: Wild Hunt
---