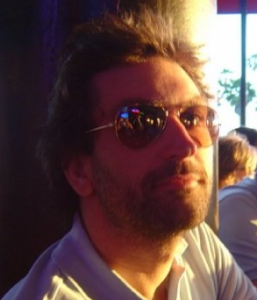 Leslie Benzies is a British video game producer and developer. He was the President of Rockstar North, which a subsidiary of Rockstar Games.
Leslie Benzies was the lead developer in the Grand Theft Auto series, from GTA III to GTA V, the latter being the best selling title in the history of video games, and the entertainment industry in general, overselling such huge items as Titanic and Avatar movies.
Born on January 17, 1971 in Aberdeen, Scotland, Leslie Benzies was President of Rockstar North (a subsidiary of Rockstar Games) for almost a decade, before leaving the company in January 2016. Benzies never received a formal degree in programming, but instead fell right into game design and programming just a few years after finishing high school. Benzies first joined Rockstar North (then DMA Design) in 1995, to work on the Nintendo 64 game, Space Station Silicon Valley. Immediately after the game's release, he began working on the production of the third installment of the Grand Theft Auto series, assembling a team of fellow programmers to work under him.
After the success of Grand Theft Auto III, Benzies went on to produce all subsequent games in the series as well as all of their associated expansions and DLCs. In between GTA releases, he also produced several other highly-rated games such as Manhunt 2, Red Dead Redemption, L.A. Noire, and Max Payne 3. As the GTA franchise ballooned in sales, popularity, and ratings, Benzies skyrocketed to international fame and was given the presidency of Rockstar North.
During his almost two decades at the company, Benzies' work with Rockstar North has earned him awards and accolades within and without the game industry. In 2005, Benzies received a BAFTA Special Award jointly with Rockstar Games President and Co-Founder, Sam Houser, for their outstanding contributions to the industry. In 2014, Benzies was inducted into the Academy of Interactive Arts and Sciences Hall of Fame.
In September of 2014, Benzies went on sabbatical, and in January of 2016, he officially announced his permanent departure from the company.
---
Profiles and Links:
---
Related News
Read all related news...