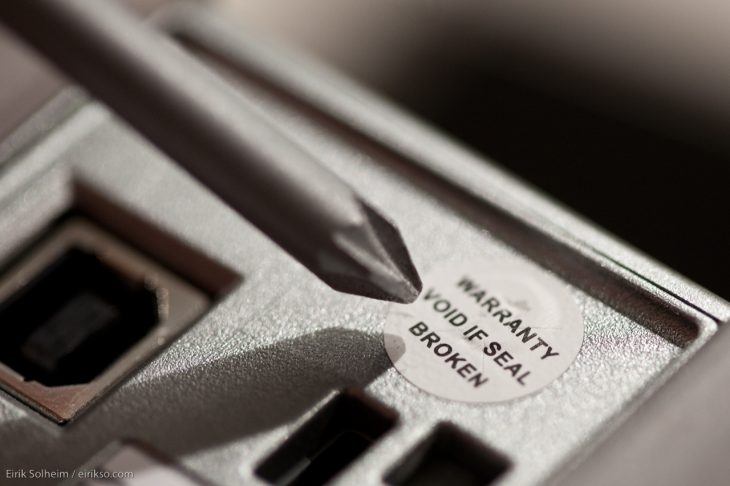 Picture credit: Eirik Solheim
Last month the
FTC gave a number of companies 30 days
to change the language in their warranty policies in accordance with related legislation. Now Sony and Nintendo have updated their warranty policies in response to this warning.
The FTC filed warnings against Hyundai, HTC, ASUS, Microsoft, Sony, and Nintendo last month for violating the law against warranty policies, meaning they implied that customers must use a particular product or service or risk their warranty being void. Most of the companies told customers that if they took their product to a third party repair service then their warranty would be void, while others put a sticker on the back of the product which said 'warranty void if removed'.
Sony have revised two parts of their warranty policy in order to comply with legislation. Previously if a third party peripheral was used with the product, or the warranty sticker removed, then the warranty was void. Now Sony say the warranty is void if a third party service is used for the product that isn't authorized by Sony, or if a third party peripheral causes damage to the product itself. Any damage to or the removal of the sticker will now not result in a void warranty. Sony have also altered the language in the warranty policy so that it now states that any product repaired by them will be returned with free shipping, a service that was already in place but imply not noted in the warranty language.
For Nintendo their warranty policy used to state that if a Nintendo product was used with any third party product then the warranty would be void, including third-party accessories for games consoles. Now Nintendo have amended the language to clarify that any damage caused by the user of a third party peripheral will void the warranty on a Nintendo product.
Microsoft have issued a statement telling press that they are in the process of amending their warranty policy to say that any device repaired by a third party, having the seal broken, or being opened by the user will not have its warranty voided. However, the language will also reflect the fact that any damage caused by users or third party products isn't covered by the warranty.