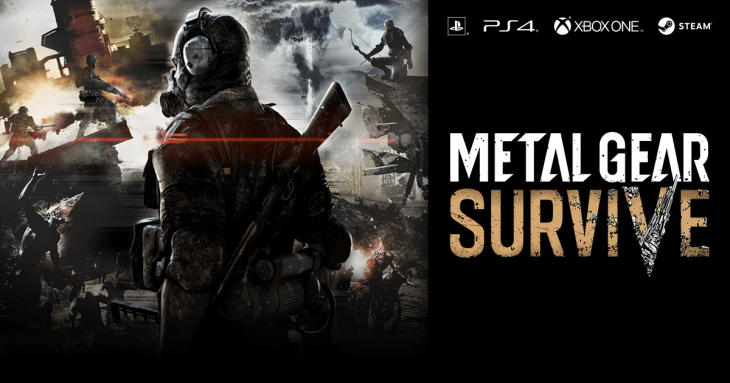 Metal Gear Survive has failed to impress in the UK during its debut weekend on sale, with relatively low numbers of copies sold reported and a low position in the official UK sales chart.
Metal Gear Survive debuts at sixth position in the official UK sales chart. The chart covers physical copies only but the reaction from fans, players, and retailers suggest that the game hasn't performed much better on the digital sales front either. Many of the game fans are also still unhappy by the story surrounding Hideo Kojima's departure from Konami. Metal Gear Survive is the first installment developed without Kojima and has probably received a little more skepticism that it objectively deserves as fans would like Kojima to continue working on Metal Gear games.
The last title in the Metal Gear franchise, Metal Gear Solid 5: The Phantom Pain, sold 3 million copies across all platforms within the first five days of release. Even though the games are very different they use the same game engine and offer players a lot of the same gameplay, such as stealth and base building by rescuing animals and NPCs. Currently Metal Gear Survive has sold 85 percent fewer copies at launch than the last series spin off.
On Steam the game is currently placed behind titles such as H1Z1, Human: Fall Flat, and Europa Universalis IV. H1Z1 in particular has experienced a huge loss of players recently as more and more move over to PUBG or Fortnite. The total player count for Metal Gear Survive, a game which has a core multiplayer element requiring it to have a constant online connection, is 4136.
Reviews for Metal Gear Survive were mixed at best, with many publishing a few days after launch due to key areas of the game being locked on release day. Since the game is very different to what the series has offered previously there are a number of players who believe it is a bad game, but many press outlets are praising the better elements of Metal Gear Survive, saying that it has them hungry for more.
Metal Gear Survive is set in an alternate universe, taking place after Mother Base is destroyed. The player controls a character who is responsible for collecting survivors together from the base in this alternate universe, and studying the zombie-like creatures occupying it. The multiplayer element introduces a horde style game mode in which groups of players must defend a base from wave after wave of enemies.