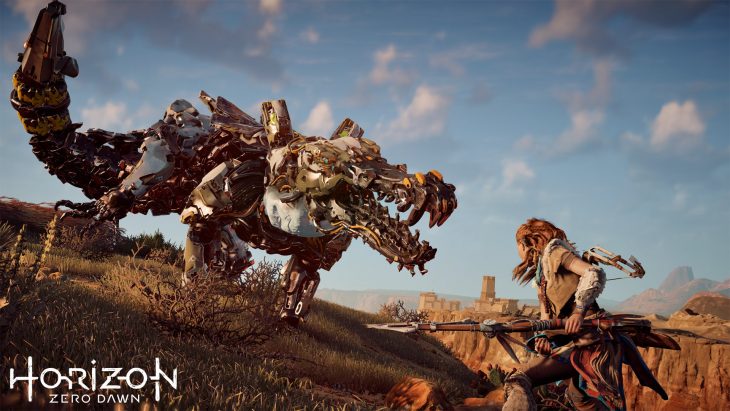 The highly anticipated Playstation 4 exclusive Horizon Zero Dawn launches next week and is already predicted to reach sales figures of 4-6 million units. Last week the review embargo lifted for the game, and press outlets were only too happy to praise the game with scores of 9 out of 10, leading to an 88 percent average on Metacritic.
SuperData Research CEO Joost Van Dreunen said that the first wave of reviews from industry outlets is positive for Sony. Based on initial observations the company believe the game will sell 4-6 million units within the first year, with a lifetime sales figure between 6 and 8 million units. These figures put the game in the same category as AAA giants Uncharted 4: A Thief's End and Metal Gear Solid 5: The Phantom Pain.
According to Van Dreunen the release date of Horizon Zero Dawn is great for Sony to help shift consoles. Console sales have been softening after the launch of the Playstation 4 Pro and Playstation 4 Slim. The company is going to need to rely on strong games such as Horizon Zero Dawn for continued success in the industry, particularly with the potential for Microsoft to reveal Project Scorpio at E3 2017.
Horizon Zero Dawn is the latest title from Guerrilla Games, best known for their Playstation exclusive Killzone series. While there are similarities between the sharp edges of the weapon and vehicles in Killzone and the machines in Horizon Zero Dawn, that is where they end. Horizon Zero Dawn is a very different game from what is expected of Guerrilla, which some called a risky move in the early days after the game's reveal, though this risk seems to have paid off in a big way.
In Horizon Zero Dawn players are given a post-post-apocalyptic world to explore. It's been hundreds of years since the event that nearly wiped out humanity, leaving the Earth open for machines to rule and evolve freely in. Now something is corrupting those machines, killing human tribes, and the player must find out why, learning what the extinction level event that lead to the one they see now in the process.
Horizon Zero Dawn is releasing on February 28 in the US and on March 1 in the UK, on Playstation 4 platform only, and has Standard, Deluxe, and Collectors Editions.