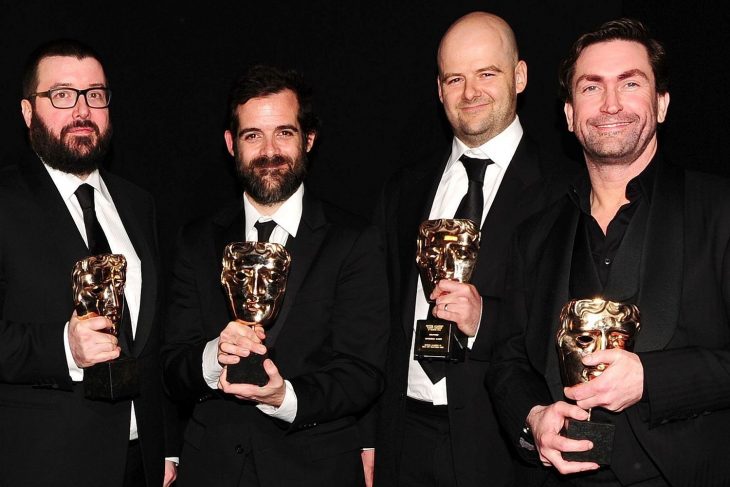 From left to right: Aaron Garbut, Sam Houser and his brother Dan Houser, and Leslie Benzies of Rockstar Games.
Co-founder of Rockstar Games Dan Houser will be leaving the developer in March 2020, after more than two decades working with them.
This news has been revealed after a document was published to Rockstar Games' parent company's IR website. The document, which Take-Two Interactive has available for all to see, states that Houser's final day with Rockstar Games is March 11, 2020.
Interestingly the document also notes that Houser has been on extended leave from Rockstar Games since Spring 2019. There is no explanation of Houser's departure from the company, or for his year-long leave.
GamesIndustry.biz reached out to Take-Two Interactive for a comment, but the company was unwilling to share more about the situation. They did explain that Sam Houser, another of Rockstar Games' Co-founders, would remain with the company.
Take-Two Interactive recently revealed that the last two big games that Rockstar Games launched, Grand Theft Auto 5 and Red Dead Redemption 2, have sold a combined 150 million units. Both Dan and Sam Houser played key roles in the development of these games.
In a 2018 interview regarding Red Dead Redemption 2, Dan Houser described how some staff members were working 100 hour weeks leading up to the game's launch. He later clarified that this was restricted to the game's writing team, made up of four staff members including himself.
Following this comment, Rockstar Games came under fire for putting too much pressure on their staff for the sake of meeting a release date. The comment led to Take-Two Interactive paying much closer attention to the work environment at the studio.
Take-Two Interactive will report their Q3 financial results this Thursday. The data should show how many more units of Grand Theft Auto 5 and Red Dead Redemption 2 have been shifted to date.
Rockstar Games have hit a gold mine with the online elements of their latest games, with Grand Theft Auto Online being a particularly lucrative game. Currently the studio puts a lot of work into supporting these worlds, bringing new content to players on a regular basis. So far there is no news of a new standalone game from the company, though many believe that Grand Theft Auto 6 can't be too far away.