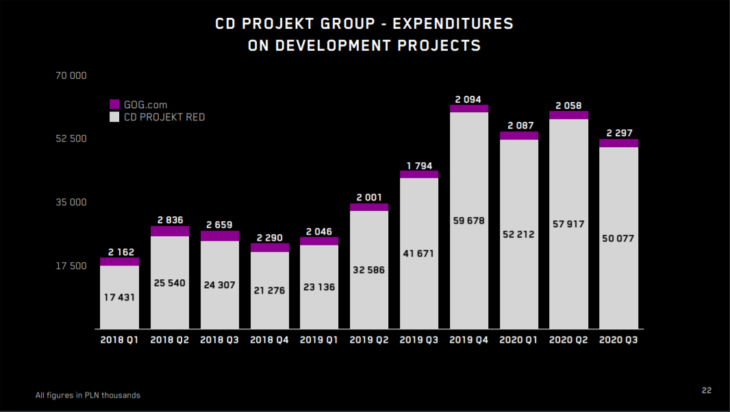 Developer and publisher CD Projekt Group has reported a rise in revenue for the final quarter before the release of their highly-anticipated next release, Cyberpunk 2077.
For the three month period that ended on September 30, 2020, the company earned PLN 105 million ($28 million). Year-on-year for the same quarter, this is a rise of 13 percent.
The most important game in this report was The Witcher 3: Wild Hunt. Coupled with the game's expansions, this small package of gaming content has supported CD Projekt for the past five years it's been on the market.
The company's other notable products were also part of The Witcher IP. These included Thronebreaker: The Witcher Tales, and the multiplayer card game Gwent.
Despite The Witcher franchise being as popular as it is, it didn't drive growth for CD Projekt Group. Sales remain flat year-on-year. However, revenue for the company's digital marketplace GOG.com did grow to PLN 40.5 million from PLN 31.5 million in 2019.
The company generated PLN 23.4 million ($6.2 million) in net profit for the quarter, which is up by 57 percent year-on-year.
The next financial results the company will publish will include sales for Cyberpunk 2077, which is due to release on December 10, 2020. The game has been delayed a few times in the past two years, but now it finally seems as though it's going to get into the hands of players. This single release represents a huge investment for the company over the past four years.
The development arm of the group, CD Projekt Red has spent PLN 219 million ($58.4 million) on development projects between Q4 2019 and Q3 2020. In the year before, spending was way down at PLN 120 million ($32 million).
The company has advertising campaigns planned for 55 countries and 34 languages. They are trying to get this game into the public eye, and they want it to be the release that everyone is excited about leading up to Christmas.
The game's final trailer racked up 23 million views in just three days, showing just how hungry the public are for new content on Cyberpunk 2077. The apex marketing plan, due early December, should serve to blow fans away.