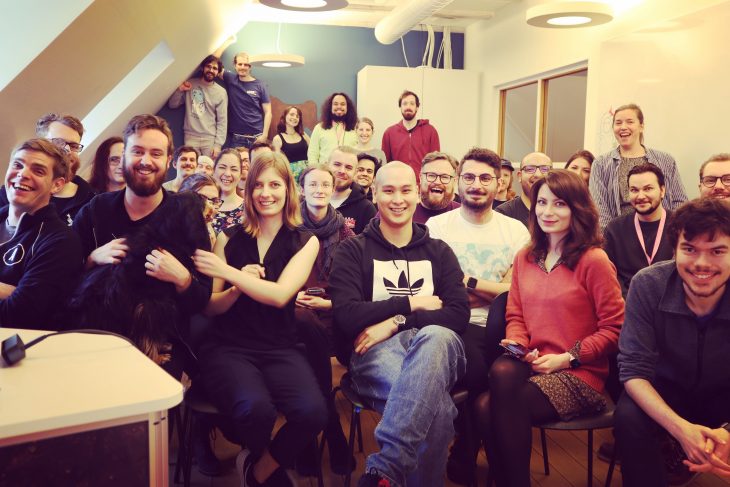 Systemic Reaction staff in Malmö office. Image author: Pim Holfve. Source: Twiter
The Swedish developer behind the Just Cause franchise has restructured itself as Avalanche Studios Group. In addition, they've named their self-publishing arm as Systemic Reaction.
This is just the latest step in the transition that began when Avalanche Studios was acquired by Nordisk Film Games back in June 2018. This acquisition made it possible for the company to move forward and self-publish Generation Zero, a first-person shooter with heavy survival elements.
The part of Avalanche Studios that published Generation Zero is the part that has been renamed as Systemic Reaction. The other divisions of the company are known as Avalanche Studios, which developed Rage 2 and the Just Cause game series, and Expansive Worlds, which is responsible for handling Hunter: Call of the Wild.
All three of these companies are now positioned within the Avalanche Studios Group brand. Pim Holfve, CEO of Avalanche Studios Group, explained that this is a start of a new era for the company, with all three companies now united under one brand.
Holfve added that while there are three distinct creative divisions within the group, the overall goal remains the same. The entire group wants to bring massive, open, and immersive worlds to millions of gamers around the world.
Currently there are a number of projects in the works within Avalanche Studios Group. A teaser for one of these was recently revealed. The teaser shows a dark cave, and a character wielding a weapon, firing at some sort of monster right at the end. It is thought that this will be a survival shooter game, similar to Generation Zero, but with a focus on monsters as enemies instead of machines.
Avalanche Studios Group is known for creative massive open worlds for players to explore and become engrossed by. The Just Cause franchise alone is one of the most popular open-world series in gaming.
With this new structure in place, the group should be able to coordinate their efforts to bring even more incredible experience to both consoles and PC. It's almost certain that one of these games they're working on will be Just Cause 6, but only time will tell exactly where it ends up taking players.