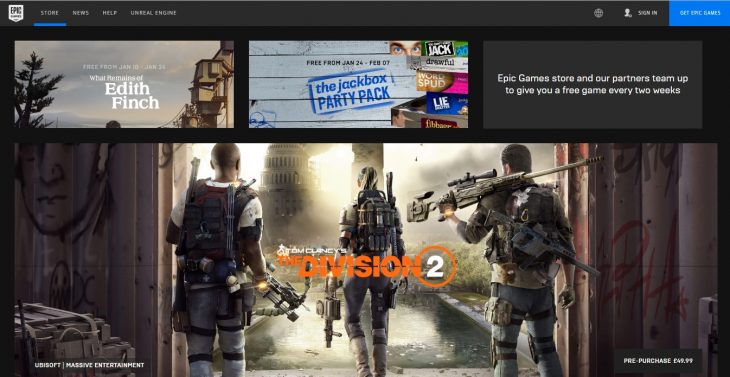 Ubisoft have announced that they will be partnering with Epic in order to launch upcoming title The Division 2, as well as other select games throughout the year, through the Epic Games Store and not Steam.
Since it was launched with the promise of bringing a better revenue split on sales to developers, the Epic Games Store has had no shortage of indie games to release. The Division 2 is the first Triple A title which will launch through the platform, dealing a serious blow to Steam.
Thanks to this partnership the PC version of The Division 2 is going to be restricted to The Epic Games Store. The only other place consumers will be able to purchase the PC version is from Ubisoft directly.
It's been confirmed that pre-orders on other platforms will be unaffected by this change of affairs. This will make for a far easier transition for those who have already pre-ordered the console version of the game.
Ubisoft have no doubt been attracted to the Epic Games Store as a platform by the generous revenue split they offer. Epic's store will take only a 12 percent cut from sales, compared to the much larger 30-70 split offered by Valve's own Steam marketplace.
When the Epic Games Store launched Tim Sweeney, Founder and CEO of Epic Games, said that the aim of the platform was to provide developers and publishers with a bigger cut of the sales to re-invest. The added revenue should give developers the chance to continue working on their games for longer, releasing further updates and fostering the community they desire.
Vice President of Partnerships at Ubisoft, Chris Early, said that they have total faith in Epic Games to deliver a seamless experience with The Division 2. From pre-ordering, to playing the early beta, and then finally downloading and playing the final game the experience should be as easy as possible. Ubisoft is impressed with the way epic continue to shake the industry by bucking trends, which they've done once again with the revenue model for the Epic Games Store.