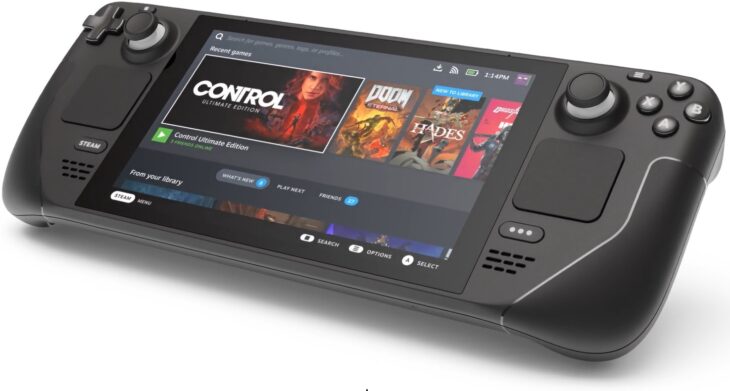 Yesterday, Valve emailed all consumers who had pre-ordered a Steam Deck console to inform them that the device's launch has been delayed until February 2022. Initially, the goal was to get some orders filled by Christmas 2021.
Valve cited global supply chain issues that it had tried to overcome in the last few months, but unfortunately, there was no way around them. This is why the console has been delayed into February 2022, but the company is still sticking with its order queue system.
All those who have pre-ordered a Steam Deck still have their place in the queue. When their number comes up, their Steam Deck will be sent out. The first devices won't be sent to consumers until February 2022 though, meaning the queue has shifted back from that point.
The delay is unfortunate for customers but doesn't come as that much of a surprise. It was revealed this week that Sony is using air freight to get PS5 consoles to UK retailers in time for Christmas, and it's still incredibly difficult to get an Xbox Series X/S. Even Nintendo has now confirmed that Switch consoles will be scarce in 2022 because of issues with supply chains and resources.
This all boils down to the pandemic, and the effect it's had on the production of semiconductors and other parts that are required to make all consumer electronics. Every industry is fighting for parts, but the manufacturers can only fulfill so many orders at once. Even with a stockpile during the pandemic, companies are beginning to run out of raw materials and can't produce their goods.
The Steam Deck was only announced recently, and production was always going to be a touchy subject. The delay isn't that much of a surprise because of what other companies in the industry are facing, but Valve did initially state that it was trying to work around those issues and combat them.
The Steam Deck is a handheld PC that plays games from Steam. Users log in with their Steam account and can play all of the games in their library, should they wish to. It's a revolutionary idea since most handheld PCs are incredibly custom and specific. The Steam Deck is the first major commercial device that will bring Steam to the handheld space and could be a serious competitor for Nintendo's Switch.