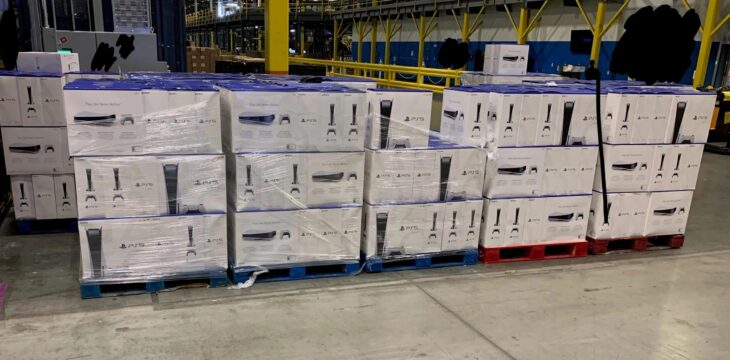 Image: Heathrow Airport warehouse. Reddit
In an attempt to stock retailers with enough PS5 consoles to meet the Christmas demand, Sony has reportedly begun shipping consoles to the UK with air freight so that all products are with retailers well ahead of time.
The report states that Sony has charted three Boeing 747 airplanes from Seoul, South Korea, to London in the past week already. Each one was said to be loaded with around 50 pallets of PS5 consoles.
Each plane's stock required twelve articulated lorries in order to be transported to cargo distribution centers, where it will then be distributed in smaller batches to retailers around the country.
These air freights seem to be the reason that so many online retailers such as Amazon and Argos have been getting new stock in on a regular basis. Even UK retailer GAME has had more stock than is usual in the last few weeks.
The PS5 has been in demand ever since it launched last November. However, a lack of availability due to a shortage in parts has meant that the console has been pretty much unavailable since then. This led to scalpers buying up most of the stock that was available to make a profit through third-party resale sites.
Consoles are most commonly shipped to the UK by sea, but there have been several global issues with cargo ships being delayed due to various reasons. However, there just seems to be so much stock to ship that it's hard for anything to get through.
Sony is clearly making this air freighting a priority so that UK consumers have something to buy, or at least a chance to. There are so few consoles available, relatively speaking compared to the vast number of people who want one, that this is the only way for Sony to help UK consumers in some way.
While Sony had hoped that shortages would end towards the end of 2021, this doesn't seem to be the case. Even Xbox Head Phil Spencer has outlined that Xbox Series X/S shortages will continue into 2022 due to the lack of manufacturing parts.