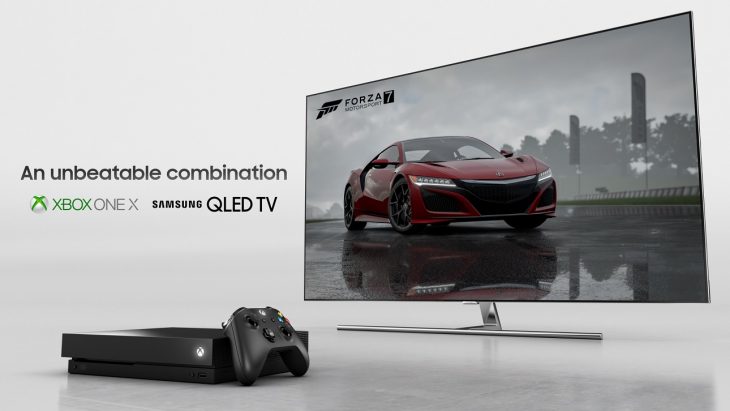 Samsung, global leader in television for eleven years, has announced an exclusive US partnership with Xbox for their flagship premium lineup of QLED TVs, resulting in Samsung becoming the official partner of the highly-anticipated Xbox One X.
This partnership was kickstarted at E3 2017 as the public experienced 4K HDR gaming for the first time with live Xbox One X demos playing on Samsung QLED 4K televisions. Now gamers will be able to experience this again through a series of marketing and retail activations running around the US in the lead up to the console's launch. In addition there will be a Samsung TV Spot showing nationally over the coming months that showcases the partnership between the Xbox One X and Samsung QLED 4K televisions.
Eddie Combs, Vice President of Marketing for Samsung Electronics America, said that the arrival of the Xbox One X marks the arrival of true 4K UHD gaming and gives gamers the perfect reason to upgrade their television. He argues that if players are looking for a television that delivers true 4K HDR gaming with smart functionality, then Samsung's QLED TV and the Xbox One X are the perfect combination.
Mike Nichols, Corporate Vice President and Chief Marketing Officer for Xbox said that the Xbox One X will bring true 4K gaming to consoles for the first time, offering forty percent more power than other consoles. He added that Xbox is thrilled to be working with Samsung to deliver amazing quality 4K gaming.
Samsung QLED televisions use Quantum Dot Technology to bring the tiniest graphical details into perfect colour and life. The input lag of the QLED televisions is extremely short at less than 20 milliseconds, providing a high-fidelity experience desired by all gamers, mostly though by those demanding multiplayer gamers.
The Xbox One X will launch in November this year, with a Project Scorpio limited edition launching alongside it. Pre-orders for the console have sold out so fast that the Xbox One X has become the fastest-selling console in Microsoft history. One of the titles launching later this year, Forza 7, will be a flagship 4K title and was used as such at E3 earlier this year.