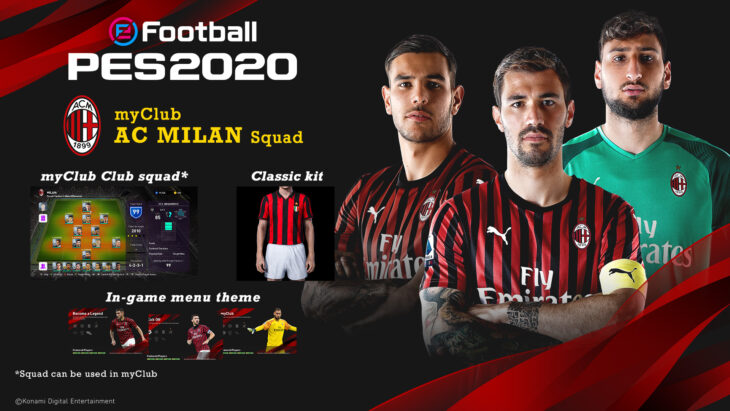 Pro Evolution Soccer (PES) publisher Konami has announced that they will no longer be able to include two popular Italian teams in their football simulation franchise.
This news came from two separate statements that appeared to be basically identical. They both mention that Inter Milan and AC Milan will no longer be appearing in the PES franchise because of agreements that weren't able to be renewed.
However, both of these clubs will still be represented in Konami's latest release in the series, eFootball PES 2020. In addition, Konami has confirmed that any purchases made in myClub won't be affected by the agreements not being renewed.
Konami added that fans should wait patiently to see what other teams will be included in future PES games. It seems as though the publisher is planning to make a number of announcements regarding this subject.
In their statements, Konami thanked AC Milan and Inter Milan for the support that they've shown the series over the years. Moving forward Konami plans to bolster other relationships, which they believe will benefit the game, possibly with new partnerships as well.
In the past, football teams that are as popular as AC Milan and Inter Milan have still been included in the most popular football simulation games such as FIFA and PES. However, their names have been changed to something that indicates who they are meant to be, without using the team's name. This is what Konami plans to do with both of these teams in future games, though there's always the possibility that a new agreement will be made at some point in the future.
Konami has been pushing to get more licensed teams included in their football franchise. Last year they rebranded the games as eFootball PES in order to appeal more to the eSports market. Whether this has been successful or not remains to be seen, but the games certainly seem to be gearing back up once more, having been dominated by FIFA for many years now.
There was a point in time when PES was more popular than FIFA, but EA has put more of a focus on making their games fun to play and replay for years, even after new iterations have launched. Konami needs to focus on this area of their franchise more if they want to get ahead of FIFA once more.