Konami is Japanese publisher of video games, which was founded in 1969 and grew since then to become one of the major publishers.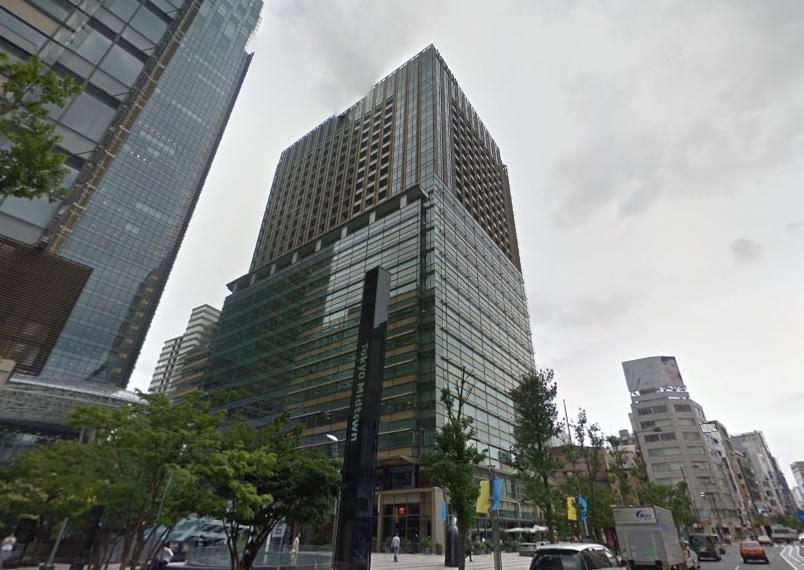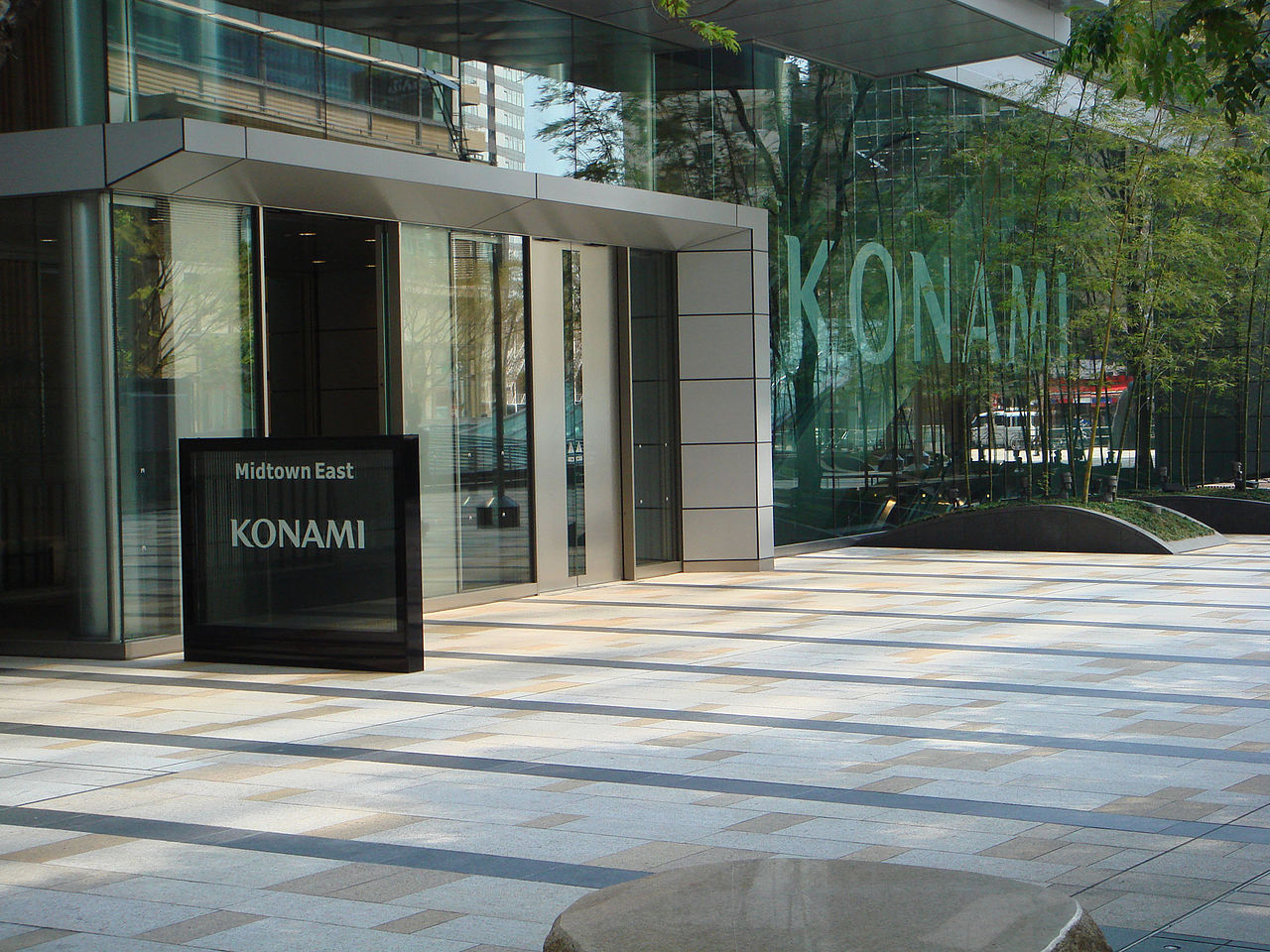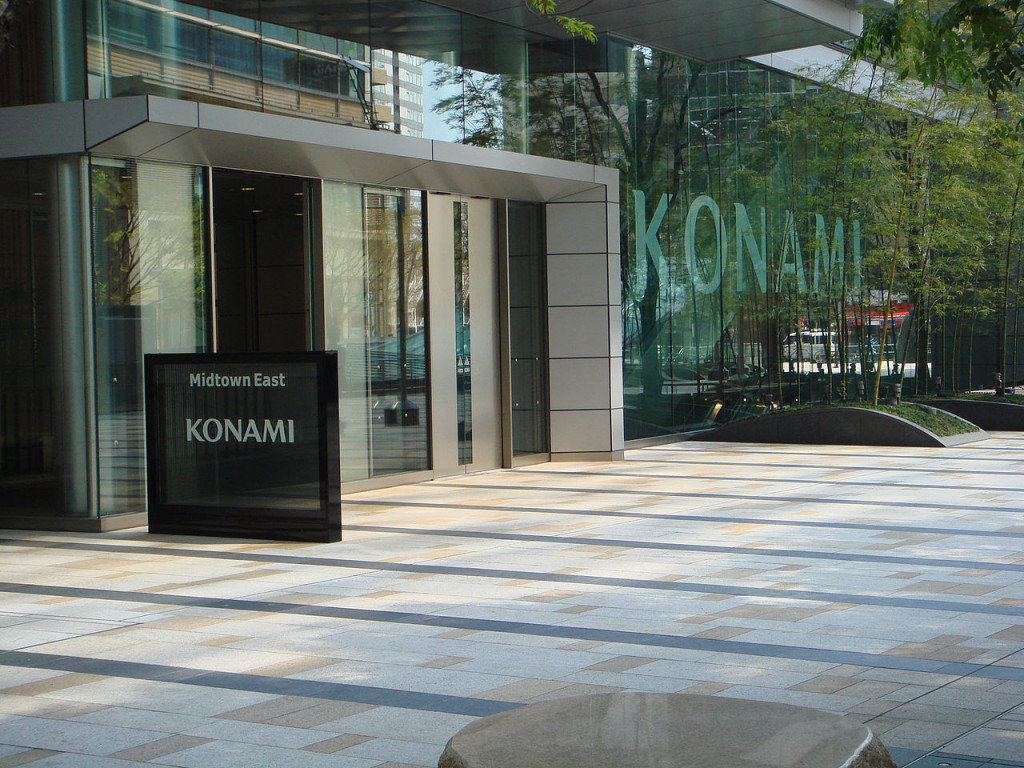 For wholesale inquires contact:
Konami Corporation
9-7-2, Akasaka Minato-ku,
Tokyo, 107-8323
Japan
Phone: +81 (0)3-5770-0573
Fax: +81 (0)3-5412-3300
Website: https://www.konami.com/
Konami Digital Entertainment, Inc.
2381 Rosecrans Ave, Suite 200
El Segundo, CA 90245
United States
Phone: +1 (310) 220-8100
Fax: +1 (310) 220-8200
Konami Digital Entertainment B. V.
14-16 Sheet Street,
Windsor SL4 1BG
United Kingdom
Phone: +44 (0) 1753 271 888
Published Titles
American Idol
Birds of Steel
Castlevania: Lords of Shadow
Castlevania: Lords of Shadow 2
Dance Dance Revolution
Def Jam Rapstar
Doctor Who: The Eternity Clock
El Shaddai: Ascension of the Metatron
Hellboy: Science of Evil
Mahjong Fight Club
Metal Gear Online
Metal Gear Rising: Revengeance
Metal Gear Solid 4: Guns of the Patriots
Metal Gear Solid HD Collection
Metal Gear Solid V: Ground Zeroes
Metal Gear Solid V: The Phantom Pain
NeverDead
No More Heroes: Heroes' Paradise
Pro Evolution Soccer 2008
Pro Evolution Soccer 2009
Pro Evolution Soccer 2010
Pro Evolution Soccer 2011
Pro Evolution Soccer 2012
Pro Evolution Soccer 2013
Pro Evolution Soccer 2014
Pro Evolution Soccer 2015
Pro Evolution Soccer 2016
Pro Evolution Soccer 2017
Pro Evolution Soccer 2018
Pro Yakyuu Spirits 2010
Pro Yakyuu Spirits 4
Pro Yakyuu Spirits 5
Pro Yakyuu Spirits 6
Saw: The Videogame
Silent Hill Downpour
Silent Hill HD Collection
Silent Hill: Homecoming
The Snowman and the Snowdog
Zone of the Enders HD Collection
Konami Wholesale News

PES 2021 is pared back to focus on Xbox Series X and PS5
Konami has made a huge announcement regarding this year's Pro Evolution Soccer game, PES 2021
---

PES loses license for AC and Inter Milan
PES publisher Konami has announced that they will no longer be able to include two popular Italian teams in…
---

PES Euro 2020 DLC delayed indefinitely, boxed version srapped
Konami, publishers of the PES franchise, as well as the developers of PES Euro 2020 have announced that the…
---

eFootball PES 2020 will not have women's teams
Konami have confirmed that their stance on bringing women's teams to their long standing football franchise remains the same,…
---

Konami believes that PES rebranding is good in Europe
Konami has explained that their recent rebranding of Pro Evolution Soccer was motivated as part of their strategy to…
---

PES rebranded as eFootball PES by Konami
As Konami increase their efforts to enter the competitive gaming world they've rebranded PES as eFootball PES. The latest…
---

Konami to end partnership with UEFA
The very successful and beneficial partnership between Konami and UEFA will come to an end after the 2018 UEFA…
---

Nintendo, Konami, and Bethesda not part of new European digital charts
The new chart from European trade body ISFE that combines digital and physical sales has exited beta today. However,…
---

Metal Gear Survive flops in the UK
Metal Gear Survive has failed to impress in the UK during its debut weekend on sale, with relatively low…
---

Trailer reveals new details for Metal Gear Survive
Konami has revealed new details about their next Metal Gear game, Metal Gear Survive. This will be the first…
---

Metal Gear Survive release date confirmed
Konami teased an announcement for their upcoming title Metal Gear Survive yesterday. Today, via Twitter page they announced the…
---

Konami unveils Metal Gear Survive
Despite losing the series' creator and creative genius, Konami has announced at their Gamescom conference that a new Metal…
---

Kojima Discusses His New Studio's Structure
Hideo Kojima has recently discussed his future plans since his well-documented departure from his previous employer Konami.
---

Risks of Fan-Made Games
Many people felt upset of the news when the team behind Shadow Moses announced that they were canceling their…
---

Hideo Kojima to Open Sony Exclusive Kojima Productions
As expected, the Metal Gear Solid creator, Hideo Kojima, has left Konami for good and is set to open…
---

Ex-Square Enix Boss Calls Konami's Treatment of Kojima "Cruel"
Yoichi Wada, the former head of Square-Enix, has pitched into the still on-going debacle between Konami and famed developer…
---

Konami Introduce Free-to-play PES for PS3/PS4
A so-called "entry-level" edition of Pro Evolution Soccer is in development, to be released on the 8th December 2015.
---

PES 2016 Gets Free Euro 16 Content Update
Konami will release a free content update for Pro Evolution Soccer (PES) 2016 for the UEFA Euro 16 championship.
---

Hideo Kojima Confirmed to have Left Konami
After many months of confusing and mixed information, reports are now claiming the famous developer Hideo Kojima has finally…
---

Konami to Cease Current Triple-A Titles Except PES
New reports suggest that Konami will be completely ceasing all development of triple-A consoles titles except for Pro Evolution…
---

Big Football Week Approaching – PES 2016 and FIFA 16 Releasing
September 2015 is going to be a big month for football fans, as the latest games in both the…
---
End of August New Releases Arrived
The upcoming weeks are packed full with some major titles being released, including remakes of older classics, sequels and…
---

Metal Gear Solid V Cost $80M to Develop
Konami's latest entry to the Metal Gear Solid series has been reported to have cost the company $80M in…
---

Major Games Lineup for Gamescom 2015
Gamescom 2015 is rapidly approaching, and as one can expect, the major companies will be demonstrating their biggest upcoming…
---

Microtransactions in Metal Gear Solid V?
Microtransactions is almost a curse word for many gamers, and now fans of stealth classic Metal Gear Solid fans…
---

Pro Evolution Soccer (PES) 2016 Revealed
Pro Evolution Soccer (PES) 2016 returns this September, bigger and better than ever before. Konami's hit football title PES…
---

Hideo Kojima to Leave Konami
According to an inside source, Metal Gear Solid creator Hideo Kojima is leaving Konami after the completion of Metal…
---
Related: