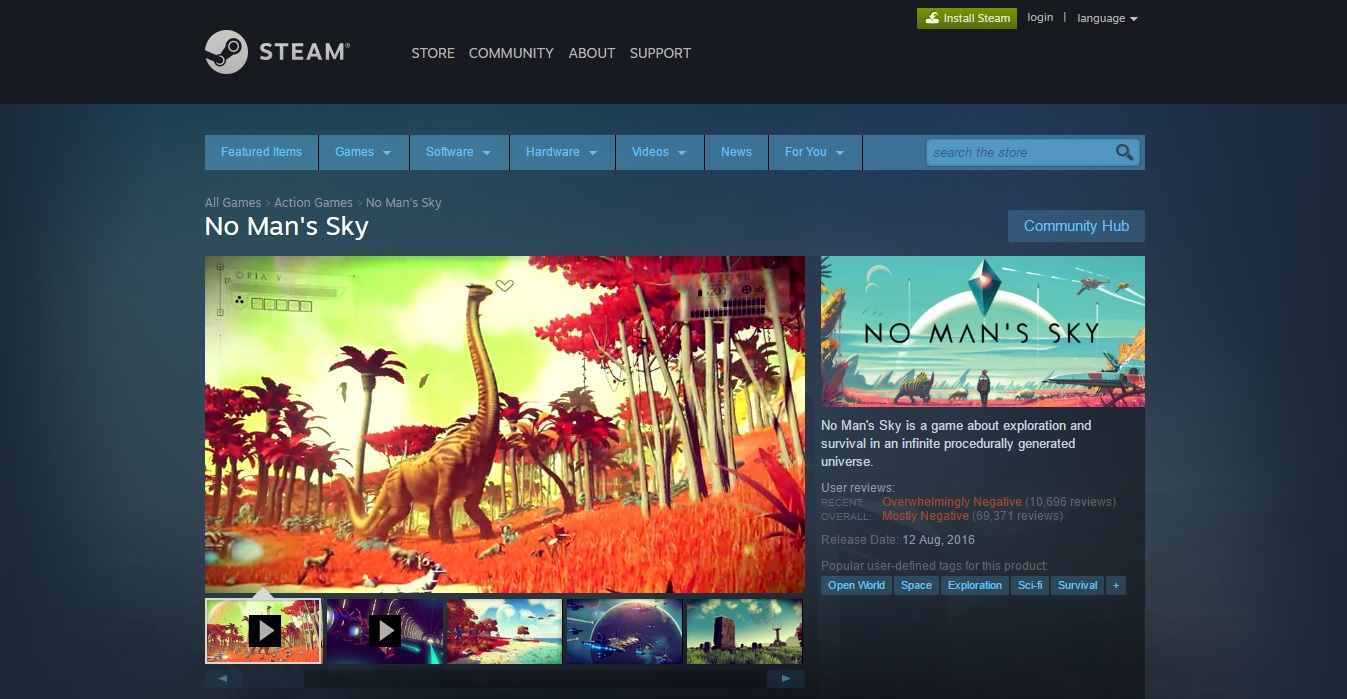 No Man's Sky on Steam
The near-infinitely ambitious space exploration title, No Man's Sky, has been hit with a controversy surrounding the marketing campaign run on Steam by its creator Hello Games. As reported by Eurogamer, the developer is being investigated by the UK's Advertising Standards Authority after a complaint filed by a customer.
'Several' complaints about No Man's Sky's Steam ads were reported to the ASA, in which the disappointed gamers claimed that representations of the game showed content which did not accurately reflect the content found within the released game. One of the complaints was issued by one Reddit user, who described his concerns in a post in the No Man's Sky subreddit, which includes a response from the ASA.
The ASA replied by saying that both Hello Games and Valve have a responsibility to not mislead gamers by misrepresenting their content to potential customers, and noted that a variety of features were singled out as being problematic. These included the UI, graphics, 'large-scale space combat', spaceship formation flying, animal behaviours, buildings, trade and factions.
These complaints were only issued in regards to No Man's Sky's Steam Store page, and were not in reference to other marketing materials found elsewhere. However, the outcome of the ASA's investigation may also end up involving all of the game's ad content. They said "any decision reached in relation to the Steam page would apply to other advertising for No Man's Sky where the same (or materially similar) claims appear."
Unfortunately, this isn't the first time that Hello Games has upset their PC fanbase, as back in August it was reported that the title was buggy and glitchy, even 'unplayable' at launch. In addition to this, Sony's Worldwide Studios boss Shuhei Yoshida at Tokyo Game Show blamed Hello Games for a pre-release marketing strategy that built up 'unrealistic expectations'.
Neither Hello Games nor Valve have responded to the ASA's investigation so far.