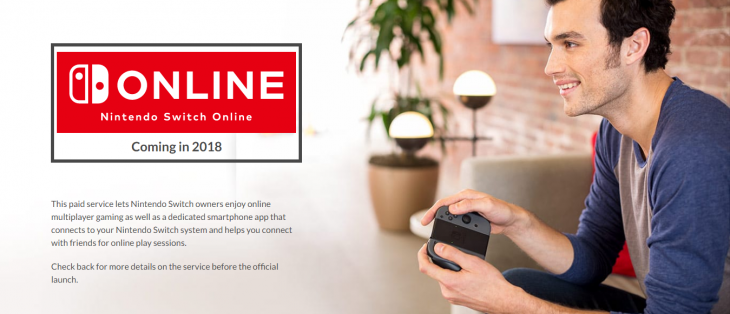 Nintendo has announced details of the online service coming to the Nintendo Switch. The new webpage on the company's website details features of the online subscription model, as well as the monthly benefits.
Nintendo announced some time ago that an online service for the Nintendo Switch would be available in the months after the console's launch. They said that the service would be comparable to Playstation Plus for Sony's Playstation 3, Playstation Vita, and Playstation 4, or Xbox Live Gold membership for Microsoft's Xbox 360 and Xbox One.
When the service launches in 2018, the only way to play Nintendo Games online will be to have a valid Nintendo account. Until then Nintendo have confirmed that online multiplayer and co-op will be free. This is exactly the same for Xbox Live Gold, but Sony do allow certain online elements in games without the need for a Playstation Plus account.
The new Nintendo Online service will allow customers access to a Nintendo Online smartphone App. Through this app players will be able to schedule in times to play with friends, voice chat, and send out invites to play games online with those they know. A limited version of the App will be available later this year, but won't be fully activated until the launch of the online service.
In addition to online multiplayer and social connectivity, Nintendo Online also offers a classic game selection, which have been improved with added online connectivity such as Dr. Mario, Super Mario Bros 3, and Balloon Fight. However, these are not final and are subject to change according to Nintendo.
Nintendo also promise that account holders will be given exclusive discounts and offers on the Nintendo Switch eShop. This is similar to how Sony offer exclusive discounts to Playstation Plus members on the Playstation Store, a roster of free games to download each month, and exclusive demos or early access to particular titles.
The pricing for the online service is $19.99 for 12 months, $7.99 for 3 months, and $3.99 for 1 month. This is roughly half the price of a Playstation Plus subscriptions as well as Xbox Live Gold membership. A breakdown on the Nintendo website shows how the major difference the account makes to the overall Nintendo Switch experience is online play and social interaction via the smartphone App.