Nintendo has revealed a brand new console in the Nintendo Switch family, the Nintendo Switch Lite, releasing on September 20, 2019.
The Nintendo Switch Lite is a smaller version of the Nintendo Switch, designed around handheld mode, as opposed to the traditional console design, which favors both handheld and home console modes. As a result, the Nintendo Switch Lite doesn't come with a dock, and won't connect with televisions.
Joy Cons have been removed from the Nintendo Switch Lite. Instead controls have been built into the unit on each side, with some buttons moved around, and the direction buttons completely replaced by a D-pad. This means that only games with handheld modes can be played on the Nintendo Switch Lite, unless users have Joy Con controllers separately.
Due to the smaller size and lack of dock, the Nintendo Switch Lite will cost $100 less than the original console at $199 when it launches on September 20, 2019. The unit is also said to be lighter and have slightly better battery life than the original.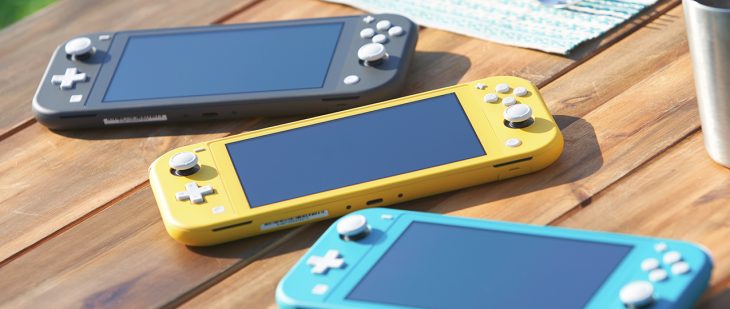 When it launches, the Nintendo Switch Lite will be available in three colors on September 20: yellow, grey, and turquoise. In addition to these base colors there will also be a limited edition Nintendo Switch Lite for fans of Pokemon Sword and Shield on November 8, 2019. Nintendo Switch Lite Zacian and Zamazenta Edition is light grey in color, features decals of the two new legendary Pokemon on the back of the unit, and has blue buttons on the left, and red buttons on the right.
The screen size on the Nintendo Switch Lite is slightly smaller at 5.5 inches, with the original having a screen size of 6.2 inches. According to those who have spent time using the new console, the difference is barely noticeable, even in large scale boss battles in games such as The Legend of Zelda: Breath of the Wild.
A smaller and cheaper version of the Nintendo Switch has been rumored for some time. While most of those rumors suggested that the console's resolution would be worse than the original's, the Nintendo Switch Lite can still display games at 720p.
This cheaper, more portable, Nintendo Switch is aimed at those users who only play their Nintendo Switch in handheld mode. The fact that the console is one single unit makes it far more secure, and the smaller size makes it easier to bring everywhere.