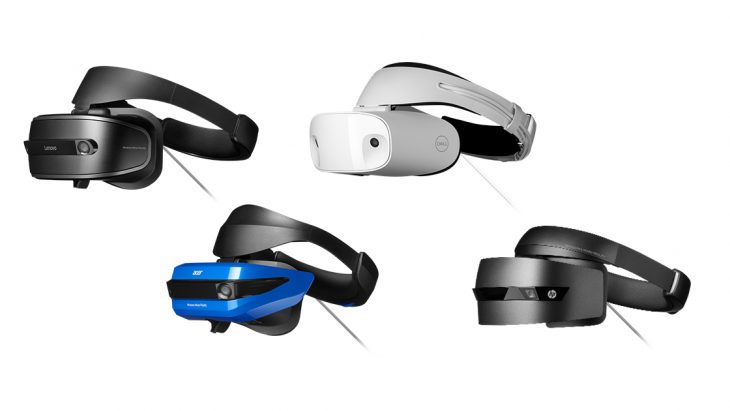 Windows Mixed Reality headsets have been in development for some time, and now Microsoft has chosen to share some new details with the public in the lead up to the IFA Summit this week.
The first key feature Microsoft detail is the fact that Windows Mixed Reality headsets will be the first VR headsets not to require external markers to track a user's position. Instead the headset has sensors built into the device itself to help track users as they move about a room, translating that movement into the game or application they're running at the time. This also makes the headsets far more portable, as there's no need to move a room full of sensors as well as any other peripherals required for current VR technology.
Confirmed manufacturers of Mixed Reality headsets include Dell, Acer, HP, and Lenovo. These headsets and motion controllers are being advertised as affordable, with some starting for a price as low as $399, cheaper than the current cheapest competitor of PlayStation VR which has recently seen a price drop of its bundle with PlayStation camera and move sensors to $449. All headsets will be compatible with both current and new PC technology.
Microsoft have also discussed Mixed Reality PCs, computers built specifically to work with Mixed Reality headsets and motion controllers. Desktops and Laptops with integrated graphics make up the standard set of Mixed Reality PC Builds, allowing for smooth 60fps gameplay.
Mixed Reality Ultra PCs however, are built with discrete graphics, allowing for a superior 90fps when Mixed Reality headsets are connected. These PC builds will appeal to those who want to get the most out of their gaming experiences without the need to opt for a superior VR headset.
In their update Microsoft give confirmation that Steam games will be compatible with Mixed Reality headsets, though the did not clarify whether this will cover all Steam tites or a select number. The company also announced that they've been working with a number of developers to create new immersive experiences for the headsets, including Halo developers 343 Industries.