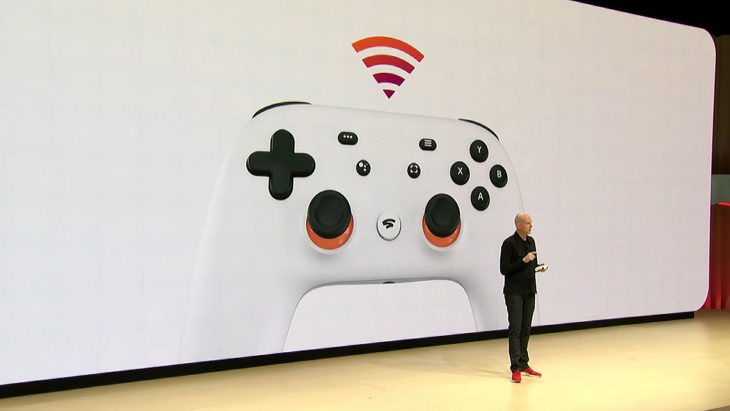 Yesterday Google revealed their new game-streaming platform, Google Stadia. Stadia is reported to be able to stream console quality games at a better quality than other platforms, avoiding the need to download titles or use discs.
Phil Harrison, Vice President and General Manager for Google, said that Stadia will be released first for use on desktops, laptops, TVs, and mobile devices.
Google has already formed a new internal team that will be responsible for developing exclusives for Stadia. The team is lead by the recently hired Jade Raymond.
Google also revealed a controller for use with Stadia. The controller was leaked a few days ago, but no one knew exactly what it would be used for. The controller has a traditional button layout as well as a button specifically for capturing gameplay, to be shared on YouTube.
Stadia will launch in the UK, Europe, Canada, and the US, though no pricing has been confirmed as of yet. The flagship title for the new platform will be Doom Eternal, meaning that Stadia could launch alongside Doom Eternal later this year.
In 2018 Google experimented with game streaming using Project Stream. This test saw Google and Ubisoft bring Assassin's Creed Odyssey to players around the world through nothing more than the Google Chrome browser. The platform functions by running the game on a high-end server at Google, and allowing players to access the game with their controllers via the internet.
The issue found with other streaming platforms is that the lag between the game and the device causes latency between players pressing a button and seeing that interaction play out. Google aim to overcome this by having their controller directly connect to the game through the internet, avoiding the need for any actions to be processed by a device in between.
According to Google games on Stadia will display at 4K resolution and 60 FPS. In the future games could see resolutions increase to 8K and 120 FPS. The most advanced consoles of the current generation display at 4K with 60 FPS, meaning stadia stands to compete against the next generation of home consoles as well.
Google plan to utilise YouTube and the massive interest in gaming there to increase interest in Stadia. In a similar way to Twitch, where viewers can purchase the game they are watching through a few simple clicks, Google want to make it possible for viewers to purchase and play the game they're watching on Stadia within minutes.
Some press outlets have warned about the issues Stadia could present surrounding the price of the service, and even ownership of the games being played. Others still suggest that Stadia could be a console killer, but with both Sony and Microsoft releasing console-exclusives each year it's unlikely that consoles are going anywhere anytime soon.