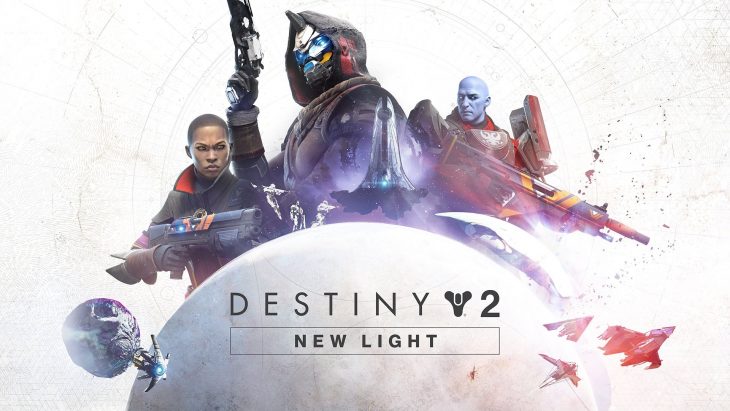 Bungie has announced that they would be making Destiny 2 Free-to-Play this September. The game will become Destiny 2: New Light, and be the brand new entry point for players getting into the title.
Destiny 2: New Light launches on September 17, 2019, two years after the base game's original release date. The game will include all previous expansions for Destiny 2 apart from Forsaken, last year's expansion, and Shadowkeep, this year's expansion.
Players will be able to jump into the game and access endgame content with their friends if they want. The idea behind Destiny 2: New Light is to remove barriers in terms of progress and price for friends of players. Right now players need to purchase the game and multiple expansions, and play through all of that content, before they can join their friends in the current endgame. Destiny 2: New Light makes it possible to play all activities within 20 minutes of starting the game, but it's also possible to go back and play previous campaigns.
Destiny 2: New Light will also bring cross-save to the game, allowing players to move easily between PlayStation 4, PC, Xbox One, and even Google Stadia. This feature is particularly important, because the game is moving from its current home on PC, Battlenet, to Steam.
As one of the flagship free titles for Google Stadia, Destiny 2: New Light will attract a huge number of new players. Everyone will be able to experience the first two years of Destiny 2 for free, which could entice them into purchasing the upcoming expansion.
The locations for both Forsaken and Shadowkeep will be available to those playing Destiny 2: New Light, allowing them to enjoy some, but not all, of the content found there. These expansions can easily be purchased if a player wants to go and play those campaigns, but Bungie maintains that they are not essential.
With Destiny 2: New Light, Bungie is also changing the way seasons are released for the game. For the last year each season has been included as part of the Annual Pass, for a one-off cost. Now seasons will be purchasable individually, allowing players to pick and choose which seasons they want to play the premium content for.