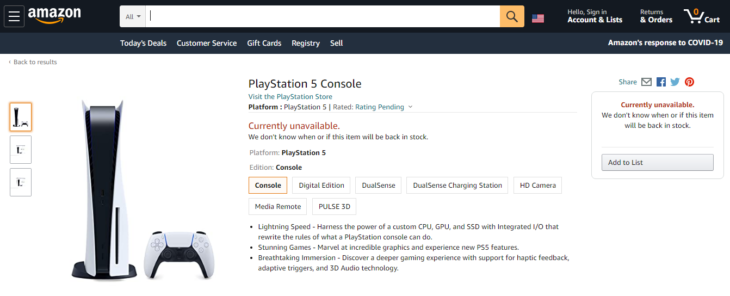 Amazon has issued a warning to consumers who have pre-ordered a PlayStation 5 console with them. They explain in this warning that not all orders will be fulfilled on time for the console's launch, meaning that the pre-order is effectively useless.
The company explains in this communication, which has circulated around social media sites in recent days, that due to high demand they may not be able to fulfil all of their pre-orders on time.
Currently there are no details from Amazon on how late this demand might make orders. They also haven't explained how the orders that are fulfilled first will be chosen, or when consumers can expect to be able to make fresh orders on their website.
All other retailers have also sold out of their stock allocation of the PlayStation 5. The console was meant to go on sale early on Thursday morning, but most retailers broke this and accepted orders the night before. This meant that most consoles were sold out before the early morning embargo set by Sony, and almost all consumers who didn't try for an order the night before completely missed out on their chance for a pre-order.
Sony has since said that they will be putting more consoles up for pre-order over the coming days. They admit that the pre-orders for the console were a shambles, and that more needs to be done to address the demand from fans.
After this initial run of consoles, it isn't known how many more Sony has in reserve. Amid rumours of the company cutting the number of consoles in production due to issues with chips, it seems like they don't have the capacity to make anymore PlayStation 5s before the November release dates. Certainly not enough to meet the demand.
This is a tipping point for Sony. Microsoft's Xbox Series X and S go on sale tomorrow morning, and could see the same thing happen. However, if Microsoft has enough stock available, they may well see their consoles become the best-selling of the year.