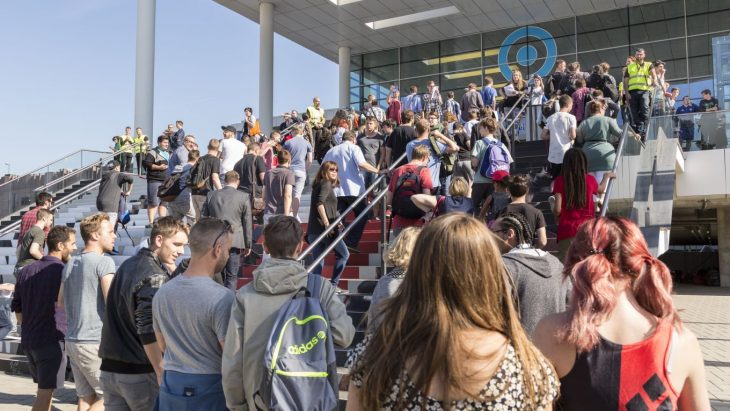 Gamescom 2018 took place in Cologne, Germany last week, and this year it has seen more attendees than ever before at the event. Gamescom takes place over the course of a week, with press invited earlier in the week, and trade and private attendees coming later in the week and over the weekend.
Gamescom is an annual European gaming event which invites everyone in the games industry, from those making the games to those reviewing them, and of course those playing them. Gamescom has become the home of new hardware announcements, but it also plays hosts to hundreds of different games, most of which are available to play at the event before they release. Some games distributors and retailers also choose to attend.
In 2017 Gamescom saw 355,000 public attendees, which has increased to 370,000 this year, the most Gamescom has ever seen. Trade attendees in 2017 were 30,700, and this year they also increased to 31,200 people.
Gamescom 2018 saw eight more nationalities among attendees compared with last year, making the number of countries who attended this year 114.
Exhibitors at the event, which are made up of companies from the games industry, also saw an increase from 919 in 2017 to 1,037 this year. The share of exhibitors from foreign countries actually fell to 70 percent of the overall exhibitors in 2018, in 2017 the number of foreign exhibitors made up 72 percent of the total. However, in 2017 companies from 54 countries were attending to exhibit their wares, which has increased slightly to 56 countries altogether.
A number of awards are always handed out at Gamescom, and 2018 was no different. From Software's latest title, Sekiro: Shadows Die Twice, was given the Best of Gamescom Gong, and Ubisoft were presented with the award for Best Developer. The Best Publisher award was given to Activision Blizzard, and the Public Vote Award was handed to the upcoming title, Super Smash Bros. Ultimate.
Next year's Gamescom is already planned for August 20, 2019. Next year's event could well be more exciting than this year's, with rumors of a new console generation already in development. The event would be the perfect place for Sony or Microsoft to announce a new PlayStation or Xbox console.