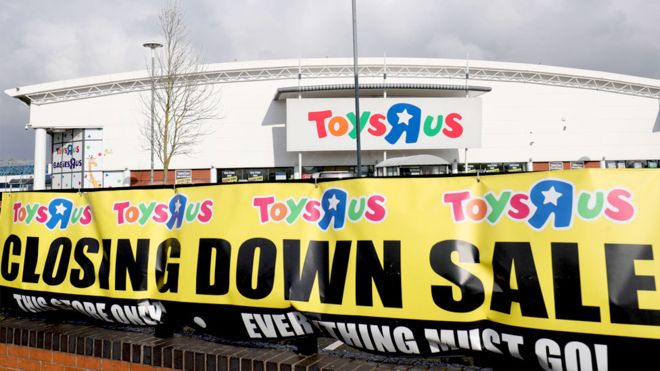 Image credit: BBC
Today the BBC reported that Toys R Us UK has gone into administration. Unfortunately since a buyer for the company couldn't be found administrators have been brought in to begin to wind Toys R US UK down in an orderly fashion.
The administrators say that all 105 Toys R Us stores in the UK will remain open for the time being, until they provide further notice. This change in the company's status puts 3,000 UK jobs at risk with no alternative being offered to staff who may soon find themselves unemployed.
Simon Thomas, joint administrator for Toys R Us UK, said that the process is likely to affect many Toys R Us staff. However, a decision has not been reached as to whether some or all Toys R Us stores will be closed around the UK.
The company has been facing a £15 million tax bill which has been unable to pay due to poor sales. The changing face of the industry, with more and more consumers opting to purchase the goods offered at Toys R Us, toys, games, and even video games, online. This is hardly surprising since many Toys R Us stores are located out of the way of other high street shops, becoming more of an afterthought to many shopper's days. The smaller stores established in the 1980s and 1990s have been far more profitable, according to Thomas, and may remain open in the future.
The online store for Toys R Us has been shut down, meaning customers must go to their nearest Toys R Us if they want to take advantage of the closing down sales. Anyone with orders from the online store that are yet to be picked up can still receive their product, but only as long as it is in stock. Those with gift cards for Toys R Us are encouraged to spend them as soon as possible.
The US owner of Toys R Us UK filed for bankruptcy protection last September, helping stave off their own administration. The company also, in December last year, made an agreement with the Pension Protection Fund to inject £9.8 million into their retirement scheme over three years. Employees who have already retired will receive their entire pension, whilst those who are still working will only get 90 percent of their pension.
With consumer demand changing, and the way people shop changing even more, there could well be other retailers similar to Toys R Us UK who simply can't keep up with what their consumers need.