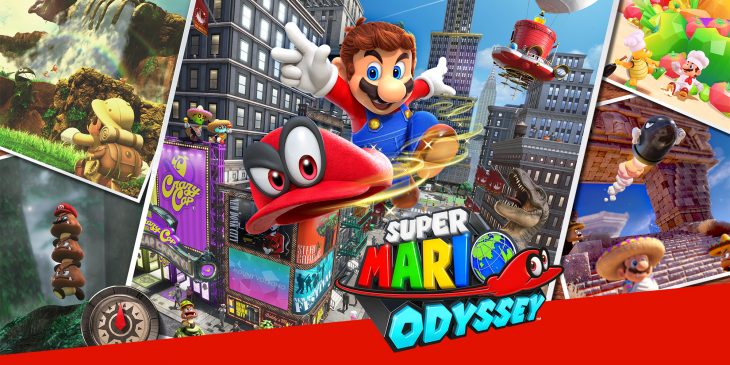 Nintendo confirmed, via a new trailer, that Super Mario Odyssey will release on October 27 later this year. The highly anticipated title was shown once again at E3, though the release date hasn't been solid until today.
Super Mario Odyssey is a brand new 3D Super Mario title coming to the Nintendo Switch. The game features an entirely new setting, a far more realistic city named New Donk City, in which Mario will be battling with the forces of evil both classic and new to the series.
At E3 games press outlets were given access to a new gameplay trailer that showed off brand new gameplay mechanics. Mario will now be able to throw his cap at any NPC and take over control of them, giving him new abilities and weapons in the process. For example, Mario will be able to take control of the dinosaurs in a newly shown level, including a T-rex.
Eurogamer today also explained how the game won't feature any Game Over screens. Instead Mario will now lose ten coins every time his health reaches zero, but players still won't see a Game Over screen if they have nine or fewer coins. This change plays into the new open world gamers will experience, as it means they won't be forced to return to an earlier point just for being attacked by an enemy at the wrong time.
Nintendo hasn't announced any special editions for Super Mario Odyssey yet, but with one already available for the upcoming Mario + Rabbids game there's every chance one will be announced before October. Even if there isn't one, Super Mario Odyssey is one of the Switch's biggest upcoming titles of this year.
However, Nintendo are still having issues with Nintendo Switch stock levels. UK retailer GAME used up their stock once again this week with brand new bundles offered online. Pre-orders are still open for the Splatoon 2 console bundle, but it even this stock could run out soon after the game launches. If there aren't enough Switch consoles available when Super Mario Odyssey launches, it could result in underwhelming launch sales.