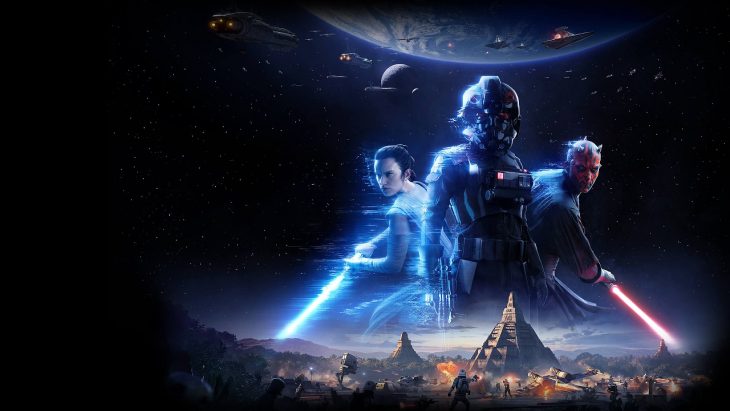 EA has revealed new details about Star Wars Battlefront 2. After the leak of the initial teaser trailer a full trailer for the game, as well as further details, have been revealed.
The first big news about the game is that it will cover all three Star Wars eras. The original Star Wars Battlefront covered only the original trilogy, episodes 4, 5, and 6, with DLC released that also covered Rogue One's characters and areas of the universe. This will be welcome news for fans of the series, as last generation Battlefront games covered both the original and prequel trilogy eras.
Unlike its predecessor, Star Wars Battlefront 2 will now include a single player campaign. Battlefront 2's campaign will follow the story Iden Versio, Commander of an Imperial Special Forces unit known as Inferno Squad. The story promises a tale of redemption that will span 30 years. In addition to this single player experience the game will feature split-screen offline co-op, a feature that is unusual in a current generation game.
Battlefront had offline challenge scenarios which players could complete for star rankings and collectibles. In the last generation games players were able to perform their own campaigns as the Empire or the Federation, taking the galaxy one planet at a time with battles both in space, and on the ground of various planets.
Battlefront 2 promises an expanded multiplayer experience, obviously spanning the three total eras for the Star Wars universe. The game boasts expansive customisation of soldiers, as well as a roster of heroes that includes every major character from throughout the series, including Darth Maul, Kylo Ren, Rey, and so many more.
As if all of this wasn't enough, space battles are returning. Ever since the original Battlefront 2 on Playstation 2 and Xbox 360, space battles have been a highlight of the series. The ability to take a squad of troops from one cruiser to a Star Destroyer, take out vital components, and leave in a daring escape has been one of the best things to do in the Battlefront games.
It seems as though EA is removing the need for a Season Pass from Battlefront 2, instead opting for something different which has not been revealed yet. Other EA titles such as Titanfall 2 are experiencing a steady flow of free updates to multiplayer, which could be what EA has planned for Battlefront 2. This form of free DLC, coupled with microtransactions, seems to avoid fragmenting the community between those who will pay for the Season Pass, and those who won't. Whether the updates include addition single player content is yet to be seen, but it looks as though EA plan to support the game, at least its multiplayer, for a long time.