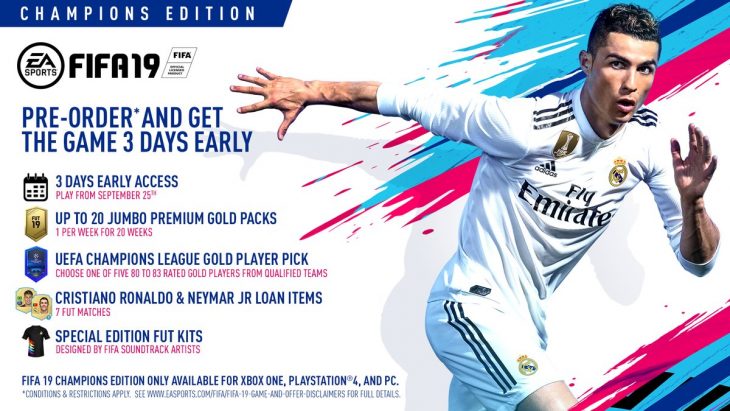 Over the course of the last year it's become far more common for publishers to offer early access to upcoming games to consumers who pre-order special editions. Games such as Assassin's Creed Odyssey, FIFA 19, NBA 2K19, and Hitman 2 have all had two release dates, one for those who have pre-ordered a special edition of the game, and one for those purchasing the standard edition.
In 2014 the number of consumers who pre-ordered games digitally was around 10 percent. Today that number is closer to 30 percent, and publishers actively advertise the fact that their games are available on digital platforms as opposed to avoiding the mention of those platforms for willingness to maintain good relationship with retailers.
When it comes to pre-ordering a game publishers stand to make more profit on deluxe editions, which usually come packaged with some physical extras. This too has changed over recent years to, more often than not, include digital content such as in-game currency, skins, and digital soundtracks. While none of this helps a publisher secure pre-orders for the higher priced versions of their games, early access to those games does.
Martyn Gibbs, GAME CEO, told Gamesindustry.biz that they see a lot of traffic when it comes to pre-orders that offer early access to games. In particular the recent releases of Battlefield 5 and Hitman 2 have been exclusive to GAME, allowing them to offer something no other retailer can. However, Gibbs said that he was keen not to see this sort of thing become too commonplace because it would create uncertainty around the release dates of certain games. However, the trails that GAME have launched this year have proved to be successful, so it's logical that more will follow.
Gamesindustry.biz have been talking to a mid-sized developer regarding the issue of early access and pre-orders on special editions. They told the site that they were watching, and would be implementing an early access incentive for their future releases based on what they'd seen.
The concept of early access to games presents publishers with new ways to market their games. For single player titles early access might work as an incentive, but for live games and games-as-a-service such as Fortnite for World of Warcraft early access to tickets for eSports events and conferences may prove to work just as well.