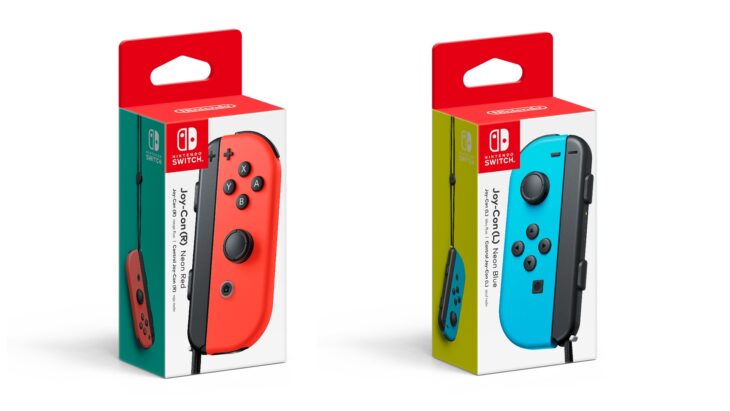 Nintendo has dropped the price of an individual Joy-Con in the US. The price has fallen from the original $50 down to $40. The price drop should be reflected in retailers from around November 9, 2020.
The news was announced via Twitter, where Nintendo combined the announcement with something else. They also revealed that the Neon Blue and Neon Red Joy-Con controllers are now available for purchase separately.
The Neon Blue and Neon Red Joy-Cons are probably the most iconic in the Switch's short history. All console bundles with these controllers have always sold out first, with the Grey Joy-Con bundle being a second choice among most Switch fans. This announcement gives everyone the chance to own those Joy-Cons for themselves now though.
Prior to this announcement, it has only been possible to pick up individual Grey Joy-Con Controllers. It's not known why this is the case, though it's likely to have something to do with the Neon Red and Neon Blue controllers forming a set by themselves. Those Grey Joy-Cons were also priced at $50 each, which makes buying a pair cheaper than buying two individual controllers.
Now that the price is being dropped to $40 per Joy-Con, the price for a pair of individual controllers is in line with the price for a pair. It's possible now to mix and match the colours of the controllers you want for $80, or buy the ideal pair for the same price. A much better situation for the consumer.
This price drop in the US follows Nintendo's similar move in Japan last week. The price of individual Joy-Cons was dropped from 4,480 Yen ($43) to 3,740 Yen ($36). At the time it was thought that this price change would come into effect outside of the region sooner rather than later. That has now of course turned out to be true.
There's currently no word on whether Nintendo intends to implement a similar price drop in the UK and Europe. It would make sense for Nintendo to perform a unified price drop across the globe, giving all fans a shot at enjoying the new lower price point.
As we head into the holiday season, this price drop will no doubt see a surge in Joy-Con controller purchases for the rest of 2020.