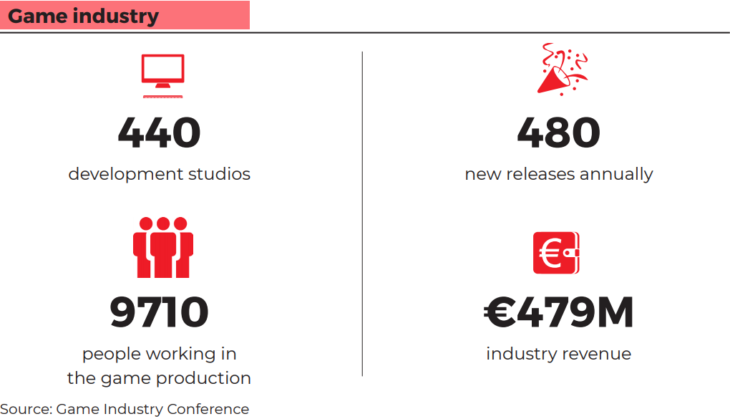 A new report from the organizers of the Game Industry Event shows that the Polish games industry has generated €470 million in the past year.
The report was compiled with the help of the Polish Agency for Enterprise Development, the Ministry of Culture and National Heritage, and the Ministry of Development. It tracks how the Polish games industry has grown since 2016, with a marked boost between 2018 and 2019 of 32 percent. During this time developer revenues soared from €364 million to €479 million.
A good chunk of this increase, as you'd expect, was attributed to CD Projekt Red. The success of The Witcher 3 Wild Hunt, which is still selling well today, has caused the game to shift 6 million units in the last year alone. That is the second-highest selling year for the game since it launched in 2015.
CD Projekt Red is so prolific, and their upcoming game is so highly-anticipated, that there are two reports. One that includes sales data from them, and one without, because they skew it so much.
The report shows a steady growth of the Polish games industry of between 27 and 28 percent every year from 2016 until now. When CD Projekt Red is factored in, the range widens drastically to between 7 and 32 percent. Hence why there is a report without their data included.
What is clear from the report is that the Polish games industry relies quite heavily on exports. Around 96 percent of all revenue is generated from sales outside of the country. The industry also relies heavily on imports however, with 97 percent of all games purchased being products produced outside of Poland.
This report uses Newzoo's figure of 16 million estimated players in the country. These players have pushed the market worth up to €596 million, making it the 20th largest market in the world. These players have a distinct preference for PC titles, and are the seventh largest market for the Epic Game Store and Steam. They are also the third largest market for GOG.com, which is owned and run by CD Projekt Group.
However, the market is also interested in esports. The Polish esports market is worth $11.5 million, but the report notes that no major Polish games are part of this scene.
In total there are 440 studios in Poland making games, with staff numbers reaching 9,710 people. CD Projekt Red accounts for 10 percent of this with 900 staff alone. However, the report also focuses on other successful Polish developers, such as Dying Light's Technland, and 11 Bit Studios, who created This War of Mine and Frostpunk.
The report ends by showing that while the industry is still growing, 120 studios have closed their doors since 2017. However, 160 new ones have opened over the same period of time.