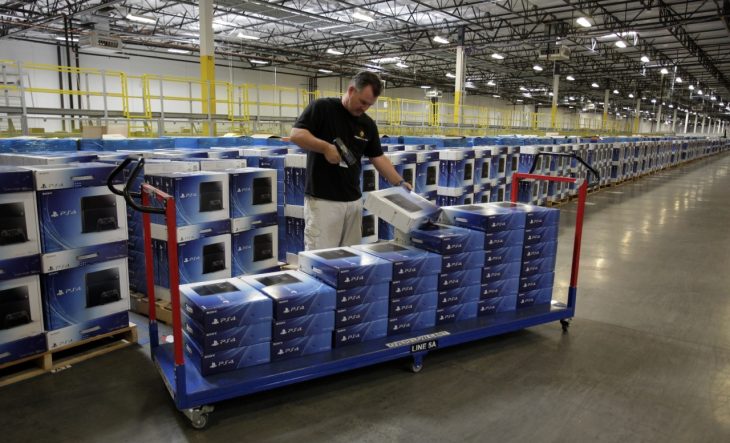 As of the three month quarter ending on June 30, 2019, 100 million PlayStation 4 consoles have been shipped to retailers worldwide.
In their Q1 2019 financial results, Sony reported that 3.2 million more PlayStation 4 consoles had been sold. As of April 2019 the total PlayStation 4 units sold worldwide was 96.8 million, and this additional 3.2 million would push that figure up to 100 million in the two months that followed it.
The figure of 3.2 million PlayStation 4 consoles sold for Q1 2019 is an increase compared to the previous quarter, Q4 2018, which saw a lower number of consoles shipped at 2.6 million. However, compared to the same period last year, 3.2 million units sold is exactly the same.
Daniel Ahmed, Senior Analyst for Niko Partners, said that the PlayStation 4 is now the fastest console to reach the 100 million units sold mark. The console reached this milestone after five years and seven months, which is faster than the PlayStation 2, which took five years and nine months to reach the same point.
Software sales for PlayStation 4 for the quarter were 42.9 million, which is up from 40.6 million for the same period last year. However, this figure is down compared to the previous quarter, which saw PlayStation 4 software sales of 54.7 million.
The ratio of software sales on the PlayStation Store versus those in physical retailers indicates another step towards digital dominance. 53 percent of software sales for Q1 2019 were digital, showing that just over half of all PlayStation 4 games purchased in those three months were digital versions.
Sony has also confirmed that the number of current PlayStation Plus subscribers has now reached 36.2 million. This is down from the previous quarter, which saw subscriber levels of 36.4 million, but it's up from the same period last year which saw 33.9 million subscribers.
Sony has adjusted their expectations for PlayStation 4 sales for the current financial year, bringing the predicted figure of 16 million units sold down to 15 million by the 31st of March 2020. The company explained that this is due to lower than expected hardware sales, as well as lower than expected non-first-party software sales.
It's also thought that the decline in PlayStation 4 sales could be due to the fact that the PlayStation 5 is expected by Christmas 2020, alongside Project Scarlett from Microsoft. Many consumers will be holding off from purchasing a console before this next generation releases, eagerly anticipating new features and games for them to play.