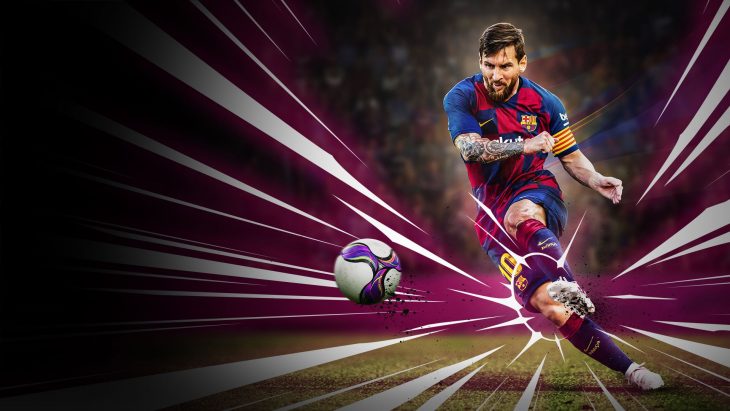 As Konami increase their efforts to enter the competitive gaming world they've rebranded PES as eFootball PES.
The latest title in the Pro Evolution Soccer franchise was announced at this year's E3 conference with a brand new name, eFootball PES 2020. The game is coming to PC, PlayStation 4, and Xbox One on September 10, 2019, in the US and Europe, with Asia getting the game two days later on September 12.
While none of the modes in eFootball PES 2020 seem to be specifically aimed at eSports gamers, or even focus on multiplayer, Konami says that the title will introduce the sport to a global audience and revolutionize eFootball.
Konami's Senior Director of Brand and Business Development told press that the rebrand is part of an effort to make PES an eSports title. He added that the game shows the company's progress towards the market and continued efforts to make PES, and eFootball, more accessible and well-known.


The company says that they've never been more excited for a football game. Their continued investments in the game's league and pro tournaments have them eager to see where eFootball will go once eFootball PES 2020 launches.
The ongoing success of the PES franchise, in conjunction with eSports competitions and mobile titles, is just one of the reasons why Konami reported their fifth consecutive year of profit growth last month. The company has taken a step back from the traditional game space in the last year or so, and while that has made them less well-known it's obviously had no effect on the success of franchises such as PES.
Currently Konami are having new headquarters constructed in Tokyo's Ginza district. The location will host an eSports arena and classes for aspiring eSports players keen to learn more. Part of the reason this arena will exist is also to spot eSports talent, which Konami will likely recruit for professional teams who will compete on a global level.
With games-as-a-service becoming more common, eFootball PES 2020 could be the last new release in the franchise for some time. With continued support and updates the game could see a similar community to that of Rainbow Six: Siege, or even FIFA, build around it.