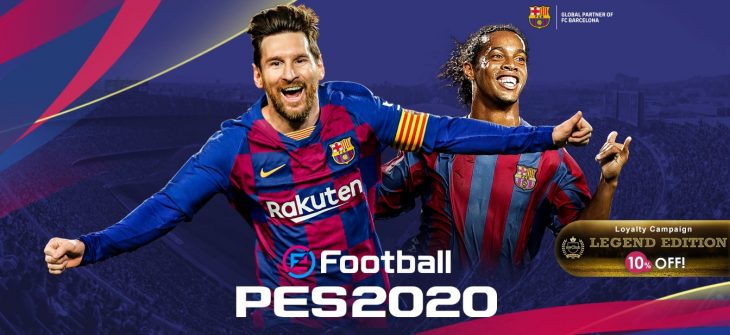 Konami, publishers of the PES franchise, as well as the developers of PES Euro 2020 have announced that the DLC is being delayed indefinitely.
PES Euro 2020 Edition is an expansion DLC that was set to launch for the most recent entry to the PES franchise. A brand new boxed version of the game that was also packed in the DLC was planned to release at the same time as well.
Now the tie-in DLC with the tournament of the same name has been delayed due to the coronavirus (COVID-19). Konami explained in a statement on Twitter that the DLC was being delayed until further notice, with no hint of when it will see the light of day, if ever.
The most likely reason for the indefinite delay of both the new boxed version of the game, and its DLC, is the postponement of the UEFA Euro 2020 tournament. However, Konami has stated that the bigger issue with launching the DLC when originally planned, the 30th of April, is the current state of emergency in place in Japan.
The Japanese state of emergency forces all non-essential businesses to close, and everyone who isn't a key worker to stay at home. Many businesses have been affected by this, and it's causing issues across all industries.
The boxed physical edition of eFootball PES 2020 that would have tied in with the tournament has been postponed alongside the DLC. This new boxed edition would have contained the base game, and required a download for the Euro 2020 DLC, so it could still have been released. Obviously the lack of a new DLC and real life tournament to drive sales would make this a frivolous product launch that any company would cancel in order to save costs where possible.
Konami has stated that anyone who purchases PES 2020 from now on, as well as those who already own it, will get the Euro 2020 DLC for free when it does launch. It's likely that Konami will delay the launch of the DLC until the tournament is rescheduled, allowing them to capitalize on sales when demand will be highest.
The esports tournament that Konami and UEFA are organizing has also seen an update. The tournament will continue as scheduled, from the 23rd to the 24th of May, despite the Euros not going ahead in the real world. The final of this esports event was planned for London in July, but now it will be a virtual event.
Thanks to their partnership with UEFA, Konami has exclusive rights to cover Euro 2020 in their game. It's one of the key factors in Konami's plan to make PES the largest football game on the planet, beating FIFA at their own game.