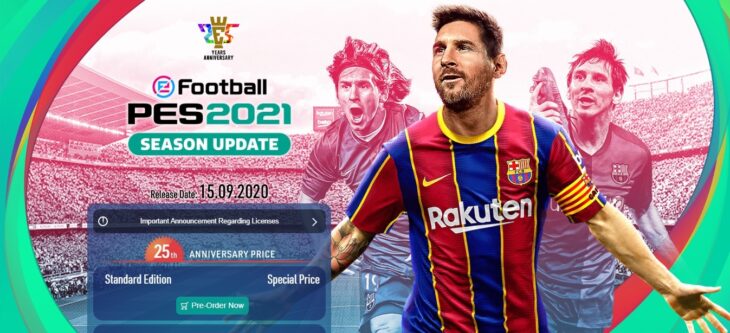 Konami has made a huge announcement regarding this year's Pro Evolution Soccer game, PES 2021. Initially the game was thought to have been canceled, but it turns out that instead it has just been pared back. This is to allow Konami to focus on the Xbox Series X and PS5 as the consoles' launches get closer.
A statement on the company's website describes how Xbox Series X and PlayStation 5 versions of the game are already in development. This will include a shift to a new engine, better player models, animations, more realistic physics, and a host of changes that will see the game improve way beyond its current level.
Unfortunately the scale of the work on these next-generation versions of PES 2021 are forcing the company to pare back development in other areas.
What that means for fans of PES this year is that no new game will arrive on current generation consoles. Instead, an update to eFootball PES 2020 will be pushed out around the time that PES 2021 was set to launch. The update will add loads of new content, and bring the game up to date with the current football season, but it won't be a fully-fledged release.
PES 2021 is expected to launch for the Xbox Series X and PlayStation 5 in the second half of 2021. This is a big blow to fans of the series, and could cost Konami dearly, because they've broken a promise that they made to players over when they would get to play this game.
That's not all though. Instead of this year's update for eFootball PES 2020 being free, it will be sold at a special anniversary price. This is because 2020 marks the twenty-fifth anniversary of the series.
This announcement is most likely due to Konami's development team realising just how much more work they'd need to do in order to produce a current generation and next-generation of PES 2021. When looking at the numbers, someone has clearly made the decision to scrap the current generation version, despite the backlash it's sure to cause.