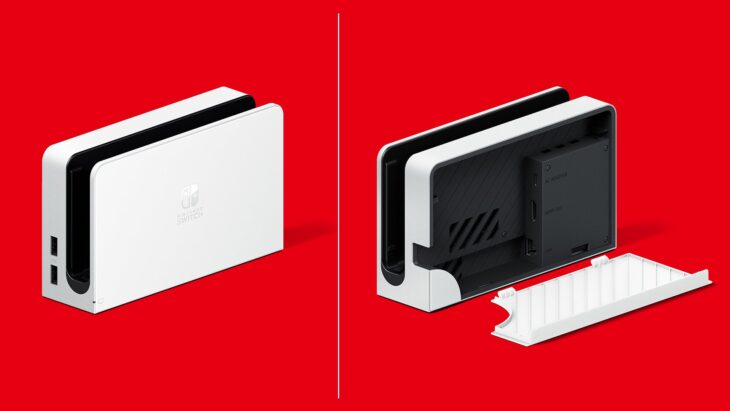 Nintendo has revealed that the new dock for the Nintendo Switch OLED Model will be sold as a separate standalone product when the new system launches this October.
The new dock doesn't look that special on the surface. The key difference is that it's white instead of black. However, this dock also contains an ethernet port, something that no other Switch dock contains at the moment.
A spokesperson from Nintendo confirmed this today, explaining that both docks will be available to purchase on their own. Both will be standalone though, with no AC adapter or HDMI cables included in the boxes.
At the moment, Nintendo sells the original Switch dock for $60, so it should be expected for the new dock to sell for a similar price. With the addition of the LAN port, it may sell for slightly more, but it really is a tiny addition to the overall unit.
The advantage to users here is that they can purchase the new dock and have a stable internet connection for their older Switch model. All base Switch models will fit inside the dock, and the Switch Lite will once again be the only one that cannot use a dock.
Interestingly, the Switch OLED Model also fits in older Switch docs. This means that users can have multiple docks around the house and move between them without the need to unplug all of their equipment.
Nintendo revealed the Nintendo Switch OLED Model this week on Twitter with very little fanfare. There are two versions available, the white model and the red/blue model. Both provide players with improved audio, battery life, a bigger stand, and a slightly larger OLED screen. This new model also has double the storage capacity at 64GB, something Switch fans have been asking for since the console launched.
It's hard to tell if this is the Switch Pro model that has been rumored for so long now. Older rumors claimed that the console was capable of 4K visuals, but the OLED model definitely isn't. For some, this looks to be the cheaper model that Nintendo would have offered alongside the Switch Pro, but resource limitations have prevented the company from announcing the Switch Pro as well.