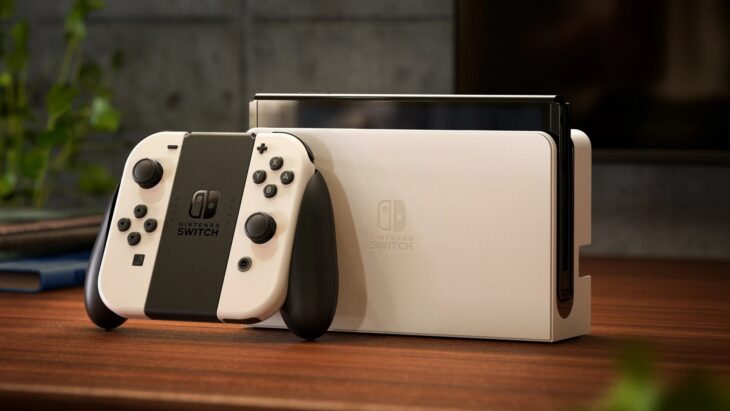 This week, Nintendo put some of the rumors surrounding a Switch Pro to bed with the announcement of a brand new Nintendo Switch model, the OLED Model.
Interestingly, Nintendo made the announcement through a post on Twitter rather than a livestream, which is what the company would usually resort to. However, it didn't dampen the news, spreading it to everyone who needed to hear it just ahead of retailers putting the new console up for pre-order.
The Nintendo Switch OLED Model is priced at £309.99, and comes with a few upgrades over the base Switch model. The first, and most obvious, is the OLED screen. This is 7-inches wide as opposed to the 6.2 inches of the base Switch and Switch Lite models. It comes with a new dock to accommodate this slightly increased size.
Another new feature is a wider stand. This gives the unit a few more viewing angles, and should make for a better overall experience with the new screen, for those who want it.
Two features that Nintendo made a lot of are the LAN port and the increased storage of 64GB. This will make it easier for those hoping to play online, as well as those who want to have more games installed on their Switch. Finally, this new model also has an enhanced audio experience, but that's the limit of the new features.
Many were expecting Nintendo to announce a Switch Pro. A handheld device capable of 4K resolutions, and being so powerful that it could accommodate much better games. Some fans are still holding out hope that The Legend of Zelda: Breath of the Wild will launch alongside this Switch Pro.
The Nintendo Switch OLED Model launches on October 8, 2021. The console isn't launching alongside any games of note, and seems to be more of a halfway point for the console at this stage of its life cycle. Comparing it to Nintendo DS models, this is much more of a DS Lite than a DSi, though Nintendo still has plenty of time to surprise fans.