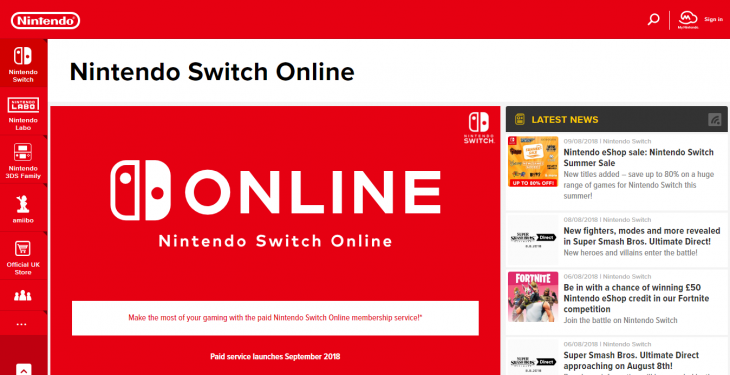 The Nintendo Switch Online, a paid subscription service for Nintendo Switch users, is set to launch later this month but may not be as comprehensive as some gamers had hoped.
Nintendo have been surprisingly reluctant to dip their toes into the water of online gaming – one of the few criticisms of the Switch at launch were its limited network features – but pleased fans by announcing Switch Online earlier in the year and stating that the service would allow gamers to back up game save files to the Cloud.
However, a sharp-eyed visitor to Nintendo's official website spotted a message on the Splatoon 2 page which stated "This game does not support Save Data Cloud backup."
Switch users seeking somewhere to back up files in the event of a problem with their console were understandably concerned by this and began searching elsewhere on the Nintendo website. They found the same message on the official pages of Pokemon Let's Go! Pikachu, Pokemon Let's Go! Eevee, FIFA 19, Dead Cells and Dark Souls: Remastered.
Nintendo have been typically cagey on the details for Nintendo Switch Online but were moved to issue a statement following the revelations. They said that Splatoon 2's omission from cloud saving was to "ensure that Save Data Cloud backups cannot be used to unfairly affect online multiplayer rankings."
They also pointed out that in certain games a cloud save could enable users to "regain items that had been traded to other players."
In effect, Nintendo are worried about the cloud saves being used to cheat. If I have a poor night playing Splatoon 2 online and plunge down the rankings, what's to stop me jumping onto the cloud and simply restoring the higher status I held earlier that day and recovering lost items?
Integrity, some would say, and judging by the negative reaction to the news Nintendo may have to look at other ways of preventing cheating if they are to appease fans.
Nintendo Switch Online will launch later this month and will cost $19.99 per year. It appears that a few kinks in the system will have to be ironed out before it delivers a service that satisfies gamers.