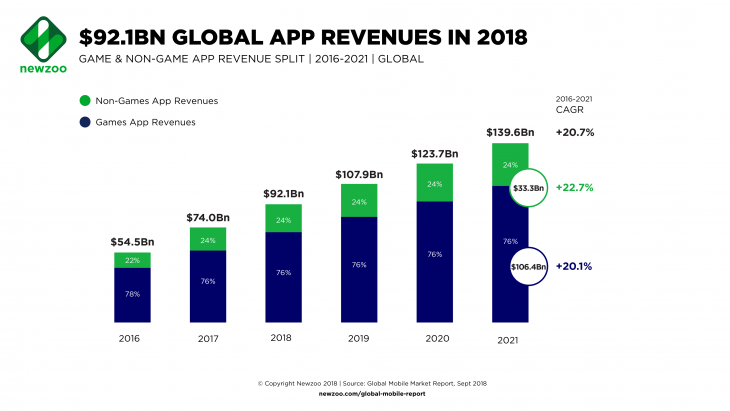 Market research firm Newzoo have predicted that the exponential growth of mobile gaming will continue for the next few years, generating huge revenue streams.
Mobile gaming is already a huge market. Newzoo note that three billion worldwide smartphone users are on track to spend over $92 billion on mobile apps in 2018.
Impressively, $70 billion of this – 76% of the overall app spend – is set to be spent on mobile games. Considering that spend on games was $42.5 billion in 2016, that represents an annual growth rate of 20% over the past few years – a rate of growth Newzoo expect the market to sustain all the way through to 2021, when they predict mobile gaming revenue of $106.4 billion.
Newzoo identify the Chinese and Indian markets as key areas in the present and future of mobile gaming. China is the biggest smartphone market at present. Its 783 million smartphones represent more than a quarter of global ownership and revenue from games alone in that region is expected to hit $23 billion, a third of the worldwide revenue from mobile games.
Interestingly, this figure also represents 60% of the Chinese spend on games overall. Clearly, mobile games are outperforming console/PC titles in the Chinese market.
While a relatively low proportion of the Indian population own smartphones – 26% as opposed to the 77% rate in the USA – in terms of revenue generation Indian is the second largest smartphone market. Given that the ownership rate of smartphones in India is expected to double by 2021 investment in Indian mobile games could prove highly lucrative.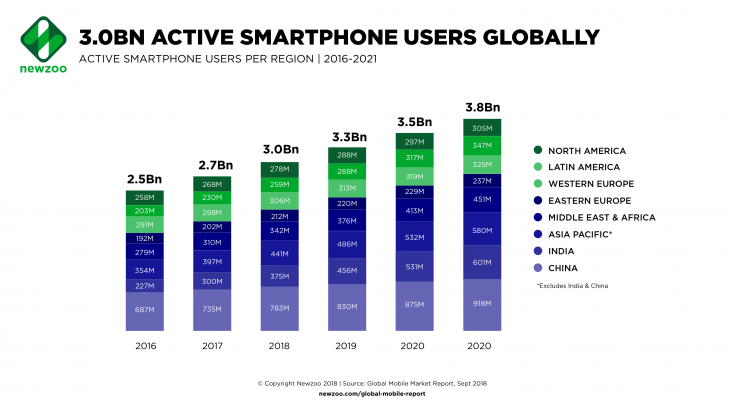 Newzoo's research suggests that Samsung and Apple continue to dominate the smartphone hardware market. Globally, the tech giants account for 50% of all smartphones owned.
Apple have a firm stranglehold on the tablet market – two thirds of all tablets worldwide – but the trend towards smartphones with bigger screens, partly dictated by the desire for smartphone games, is impacting on the growth of this market.
Any dip in the tablet market could, however, be offset by a desire for quicker mobile upgrades. Newzoo research suggests that 13.7% of Chinese mobile users indicate they would be willing to invest in new hardware to improve the gaming experience – a level of interest that does not exist to the same extent in the USA (7.6%) and Europe (2.9%) – and could lead to a market for upgrades.
Whatever way you look at it, the future appears bright for anyone able to tap into the boom in mobile gaming – a boom Newzoo expect to continue for some time to come.